The Award Ceremony was held during the ACVP/ASVCP Annual Meeting, November 14, from 5:00pm to 6:30pm ET.
The John M. King Award for Outstanding Lifetime Dedication to Veterinary Pathology Education was presented to Dr. Bruce Williams.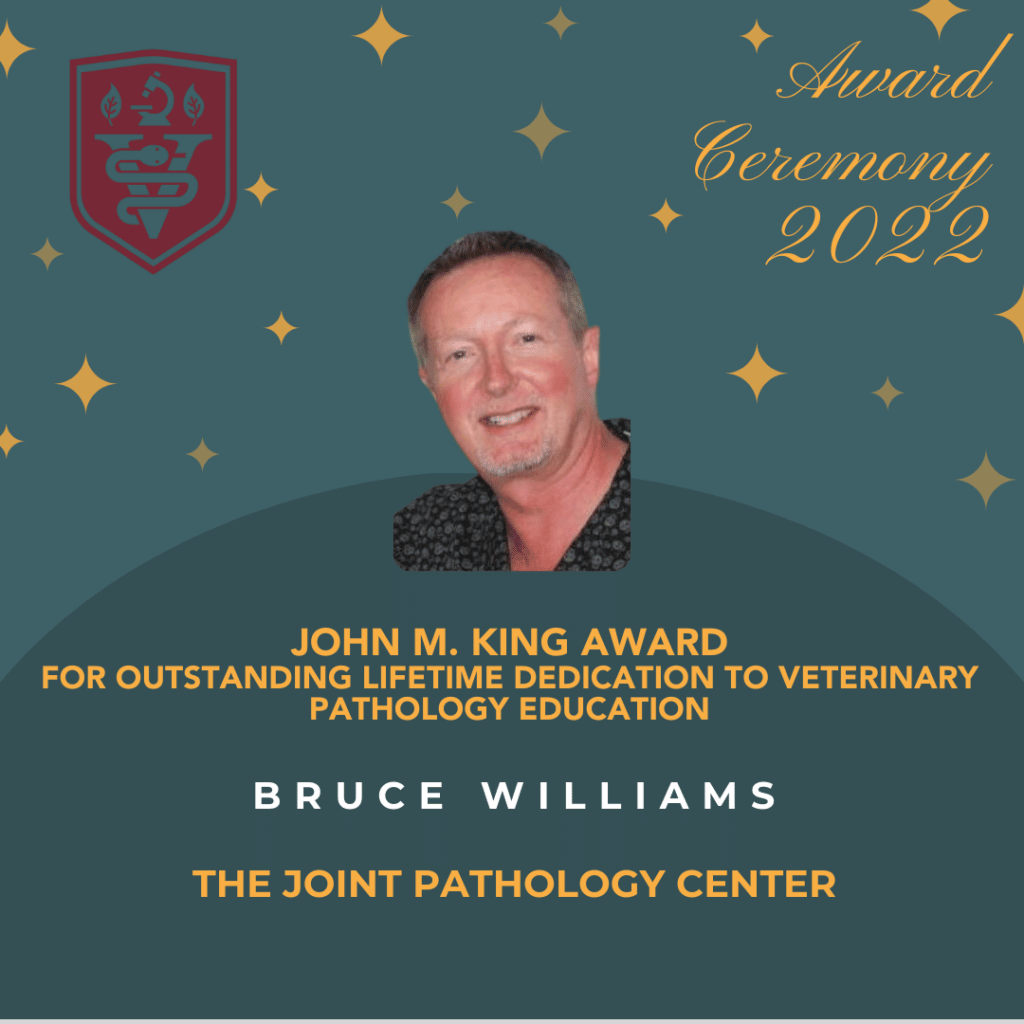 "Bruce Williams received his DVM from the University of Georgia in 1985.  He entered active duty with the U.S. Army that same year, with tours at Ft. Meade Maryland and Guantanamo Bay before beginning a residency in veterinary pathology at the Armed Forces Institute of Pathology in 1989.  Following received a diplomacy in anatomic pathology from the ACVP in 1992, he remained on staff at the AFIP, where he continues to this day.  He has published articles and book chapters on a wide array of species, as well as being a co-author of Opening Pandora's Box.  His videotaped lectures on gross pathology are widely used around the world by pathology trainees around the world. He is a distinguished alumnus of the University of Georgia College of Veterinary Medicine and a Distinguished Member of the American College of Veterinary
Pathology. 
Between 1992 and 2016, he directed and lectured at over 100 training courses around the world, including 25 iterations each of the Descriptive Pathology Course, Gross Pathology Course, and Pathology of Laboratory Animals course, as well as many other international courses and conferences.  He has been a member of the DTF's Board of Directors since 1992, and has served as the Foundation's Chief Executive Officer, President, and Chief Financial Officer.
During his time with the DTF, he has been the driving force behind providing workshops, seminars and training courses in Veterinary Pathology, both locally and globally, travelling extensively himself and championing other pathologists of all ages, genders and races.
His outstanding leadership and organizational skills have been fundamental in solidifying the Foundation's reputation as the number one organization promoting the teaching of Veterinary Pathology in the world. Under his direction, the Foundation has gone from strength to strength with each passing year and, in these very difficult times, reminded stronger than ever. 
As the realities of COVID hit, Bruce was swift to recognize not only the necessity but also the great potential of online delivery. The Foundation is now able to offer an enormous number of webinars and courses worldwide, and reach a substantially increased audience as a consequenceof his efforts.
If you know Bruce at all, you will know that he works unremittingly and is available for the teaching of Veterinary Pathology 24/7. Pathologists young and old look to him as a model of what hard work, a good heart and a strong vision for the future can achieve. I am proud to be his friend and colleague and look forward to many years of collaboration to come.
– Dr. Francisco A. Uzal"