The Award Ceremony was held during the ACVP/ASVCP Annual Meeting, November 14, from 5:00pm to 6:30pm ET.
Awardees in this category are a select group of residents or graduate students from university members of the Foundation. These individuals are chosen by their faculty for having demonstrated superior scholarship, exceptional diagnostic skills, mentorship, leadership in addition to talent and enthusiasm for teaching.
Bellow you will find the names, photos, institutions and a brief snapshot of the career trajectory of the recipients for the Pathology Trainee and Scholarship Award of 2022.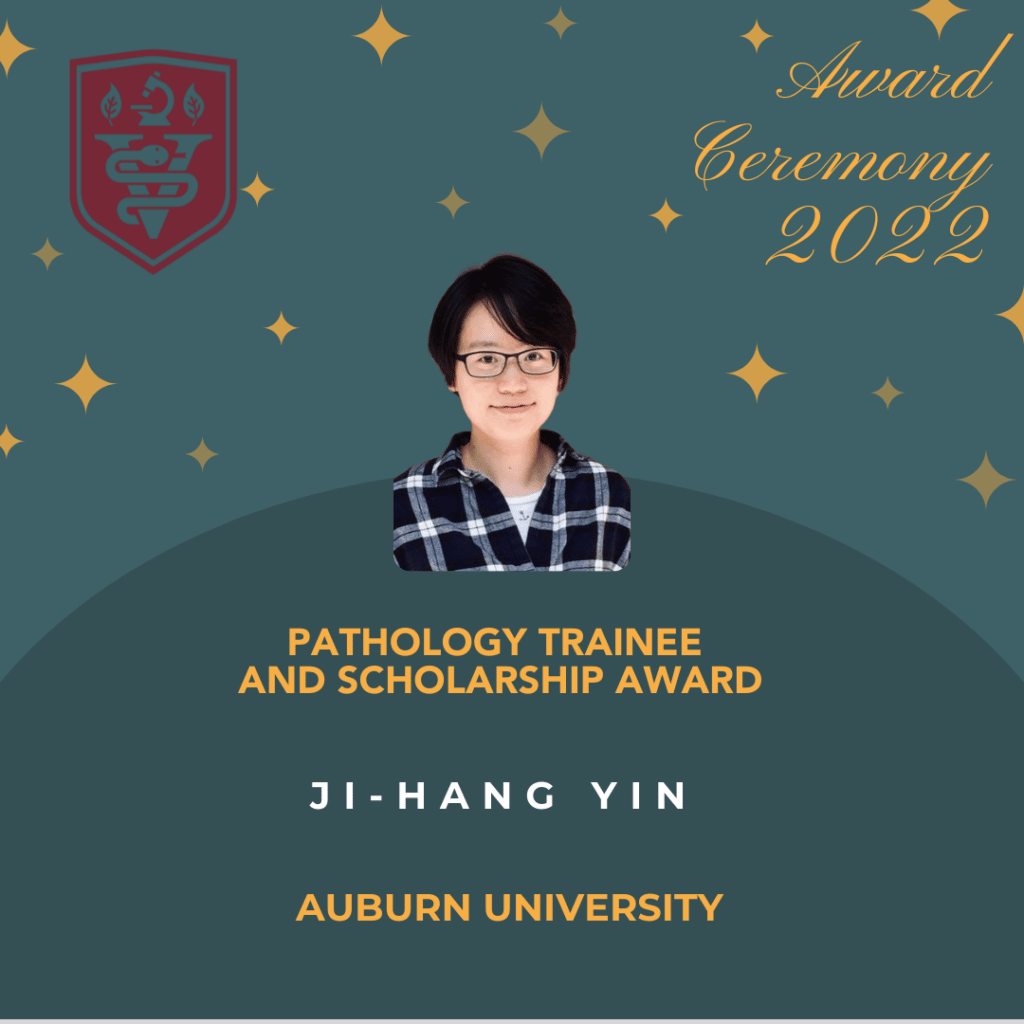 Auburn University: Dr. Ji-Hang Yin
Dr. Ji-Hang Yin is a graduate of National Chung-Hsing University in Taiwan, where she obtained her DVM degree as well as a master's degree in microbiology and public health.  Prior to entering Auburn's combined anatomic pathology residency and PhD program, she did multiple short externships at Texas A&M, LSU, U. of Illinois, U. Missouri, Oklahoma State, Cornell, U. of Tennessee, and U. of Georgia.  In addition to stellar grades in her graduate courses, Dr. Yin is an absolute delight.  Her curiosity and high energy level mean that every case will be worked up to the fullest, with meticulous care but somehow also amazing speed!  Her enthusiasm for pathology is infectious, and her super-caffeinated rounds performances are the stuff of legend, always guaranteed to have us all in stitches.  She is a classic "rock star" resident and lovely human being, and we are so fortunate to have her as part of the Auburn family.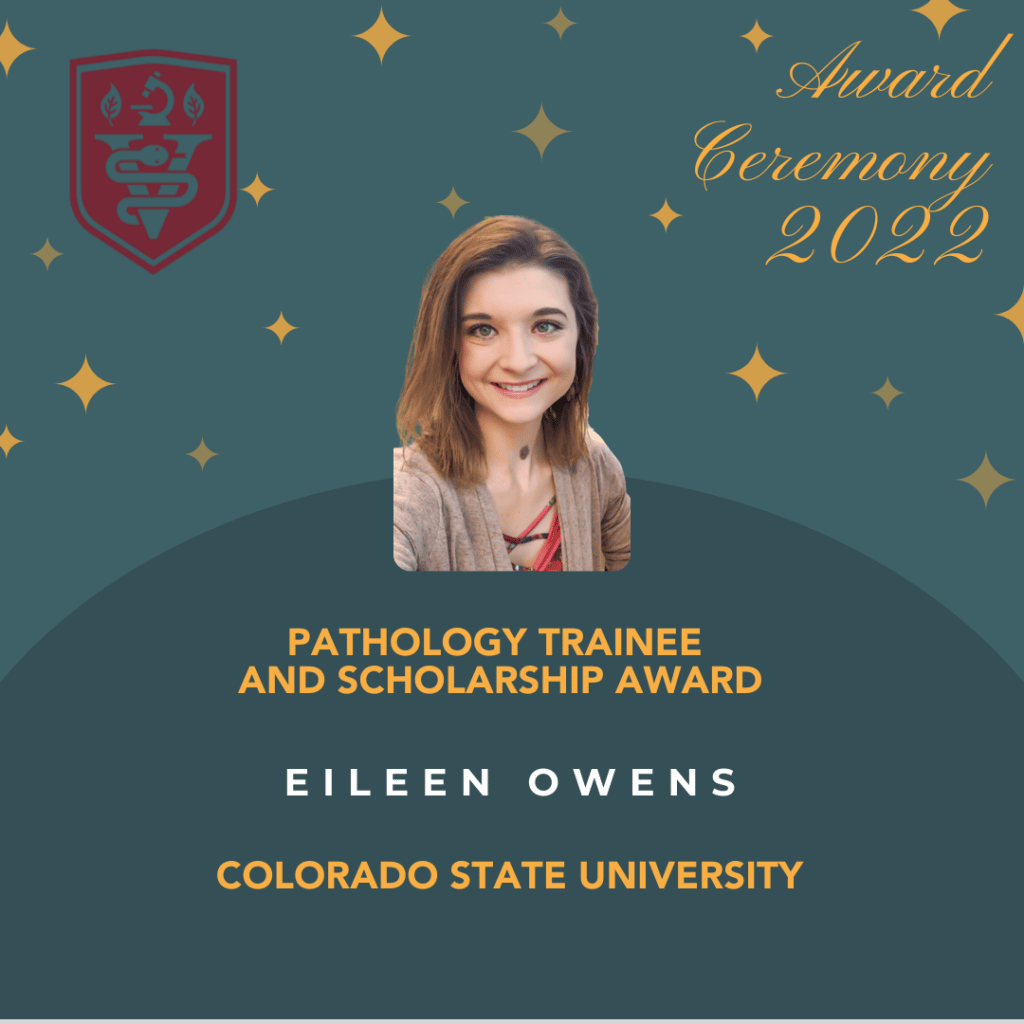 Colorado State University: Dr. Eileen Owens
Dr. Eileen Owens recently completed her 3 years of anatomic pathology residency training in the combined anatomic pathology/PhD program at CSU. Throughout residency Eileen impressed us with her strong diagnostic abilities, work ethic, and professionalism. Her passion for diagnostic pathology is apparent with the photomicrographs she regularly shares with her peers and colleagues, and the multiple projects she worked on during her residency training. One completed project was a retrospective study of intranasal neoplasms in dogs, and Dr. Owens' manuscript titled "Intranasal mast cell tumors: Clinical, immunohistochemical, and molecular features in 20 dogs" was recently published in Veterinary Pathology. Dr. Owens currently is continuing her work as a PhD student in CSU's Clinical Hematopathology Lab under Dr. Anne Avery, focusing on the molecular characterization of canine peripheral T cell lymphoma with an emphasis on transcriptomics, gene expression profiling, and the characterization of fusion genes. This year Dr. Owens was awarded the NIH Ruth Kirschstein Institutional National Research Service Award Training Grant which helps fund her continued PhD research. Outside of her busy professional life, Eileen enjoys exploring the Colorado mountains, reading fantasy fiction, and spending time with her husband, cats, and Australian Shepherd Jesper.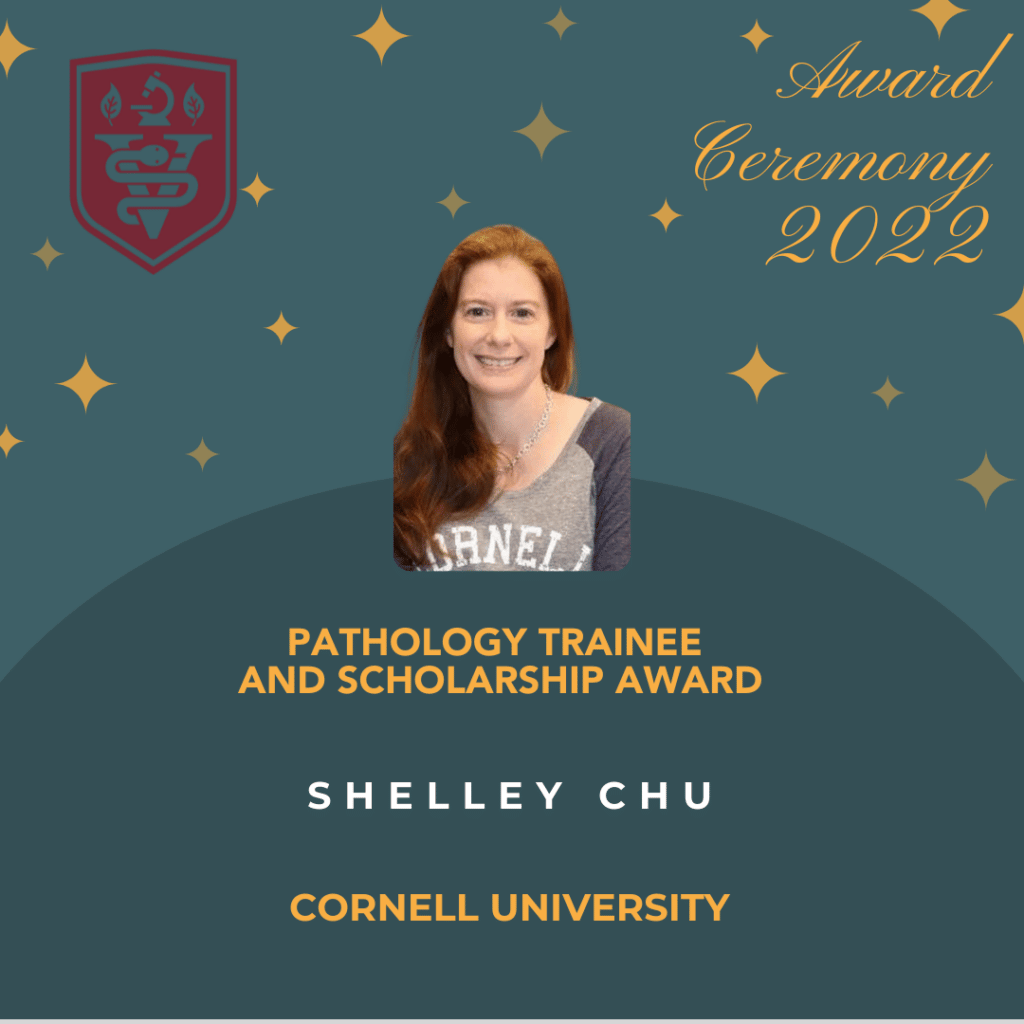 Cornell University: Dr. Shelley Chu
Dr. Shelley Chu obtained her DVM from Auburn University in 2013 and was a small animal practitioner before joining Cornell for a clinical pathology internship in 2018.  During her internship, Shelley worked as a medical technologist in the Clinical Pathology Laboratory, participated in clinical pathology rounds, assisted with teaching laboratories, and completed a research project evaluating the variability and stability of myeloperoxidase in canine and equine blood samples.  During her residency, she embarked on another research project, i.e. evaluating whether HDL lipoproteins can dampen inflammation in transition cows.  She also developed a strong interest in quality assurance and control, leading to the creation of a unique fellowship position that she will begin at Cornell in September 2022.  Throughout her training, Shelley has demonstrated excellent diagnostic abilities, a strong interest in teaching and a natural comfort for mentoring fellow and prospective trainees.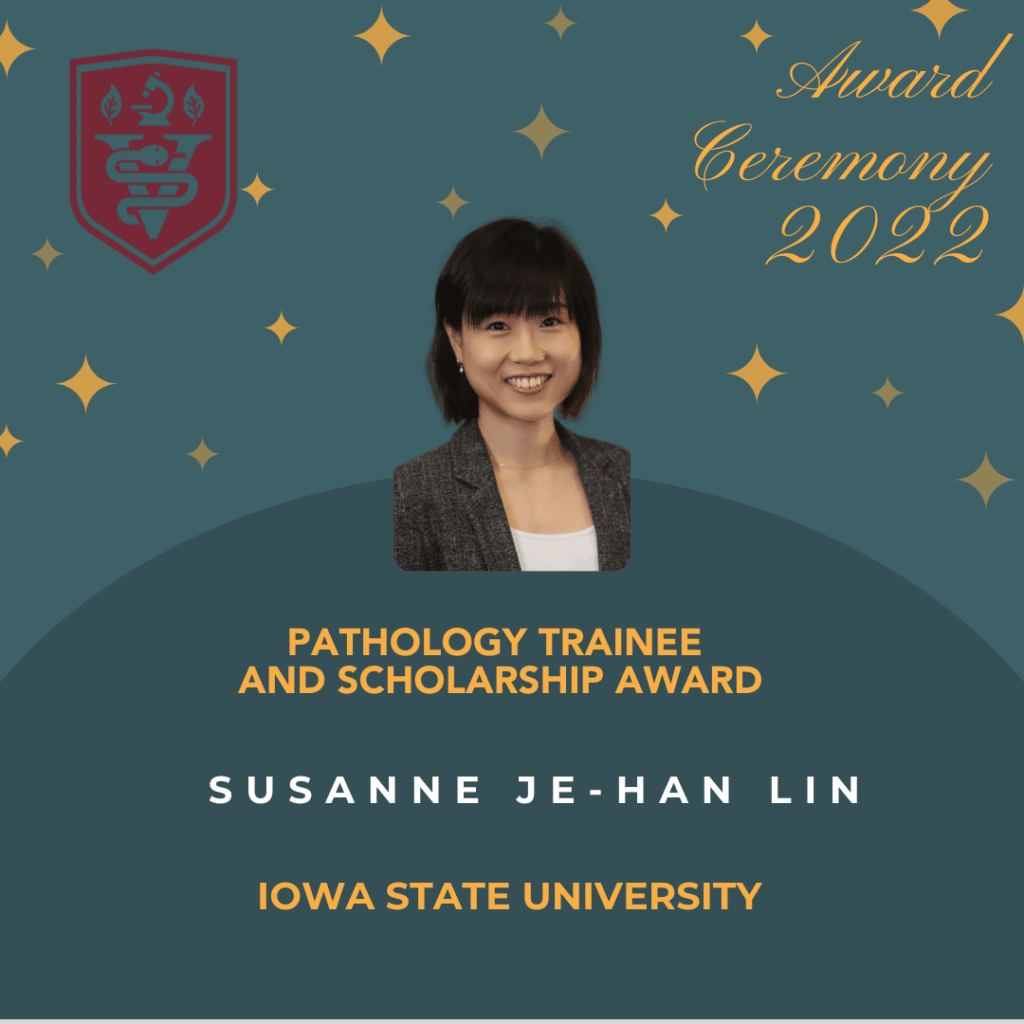 Iowa State University: Dr. Susanne Je-Han Lin
Dr. Susanne Je-Han Lin has done an amazing job as a combined resident/Ph.D. student in our department. She is knowledgeable, hard-working, and conscientious. It is a pleasure to have her on any team, whether teaching in the classroom or on the necropsy floor; in a research group, or as the part of the group of residents who just prepared for and sat for the 2022 ACVP Phase II exam. Dr. Lin will complete and defend her Ph.D. dissertation on swine dysentery this fall semester. We have been very grateful to have Dr. Lin as a member of our department and know that she will have a tremendously bright future. She is an outstanding researcher, educator, and pathologist.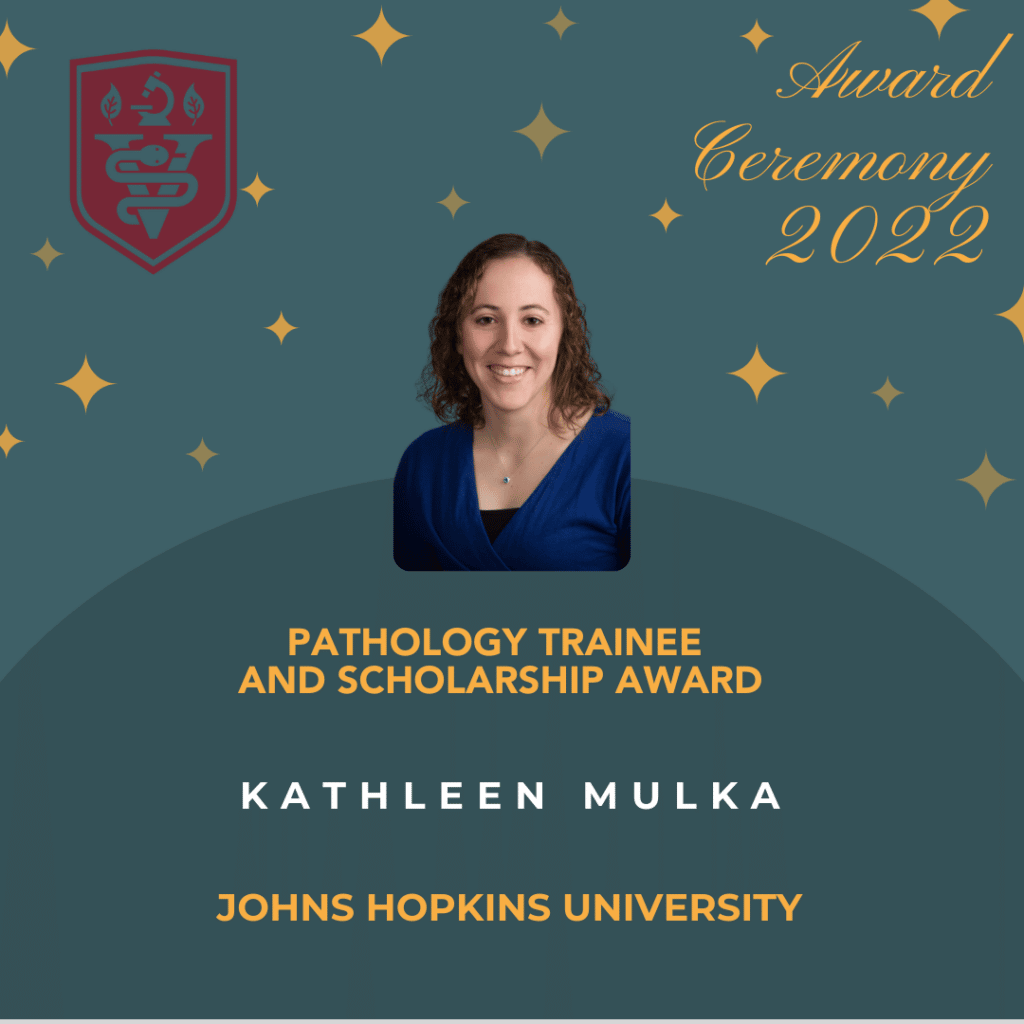 Johns Hopkins University: Dr. Kathleen Mulka
Kathleen Mulka (Katie), DVM, DACVP, received her DVM from Michigan State University before joining the Comparative Pathology residency and PhD program at Johns Hopkins University School of Medicine.  She has published research on the pathological characterization of SARS-CoV-2 infection in Syrian hamsters and has been a co-author on several additional papers mainly focusing on the comparative pathogenesis of viral disease. Katie's PhD thesis project involves understanding gene expression in the spinal cord of SIV-infected macaques as a model for HIV infection in humans. Katie has also served as the Senior Pathology Fellow in the anatomic pathology training program, and in this role has mentored junior trainees. She anticipates receivingher Ph.D. from the Pathobiology graduate program at Johns Hopkins University School of Medicine in May 2023. She enjoys hiking, running, and spending time with her family.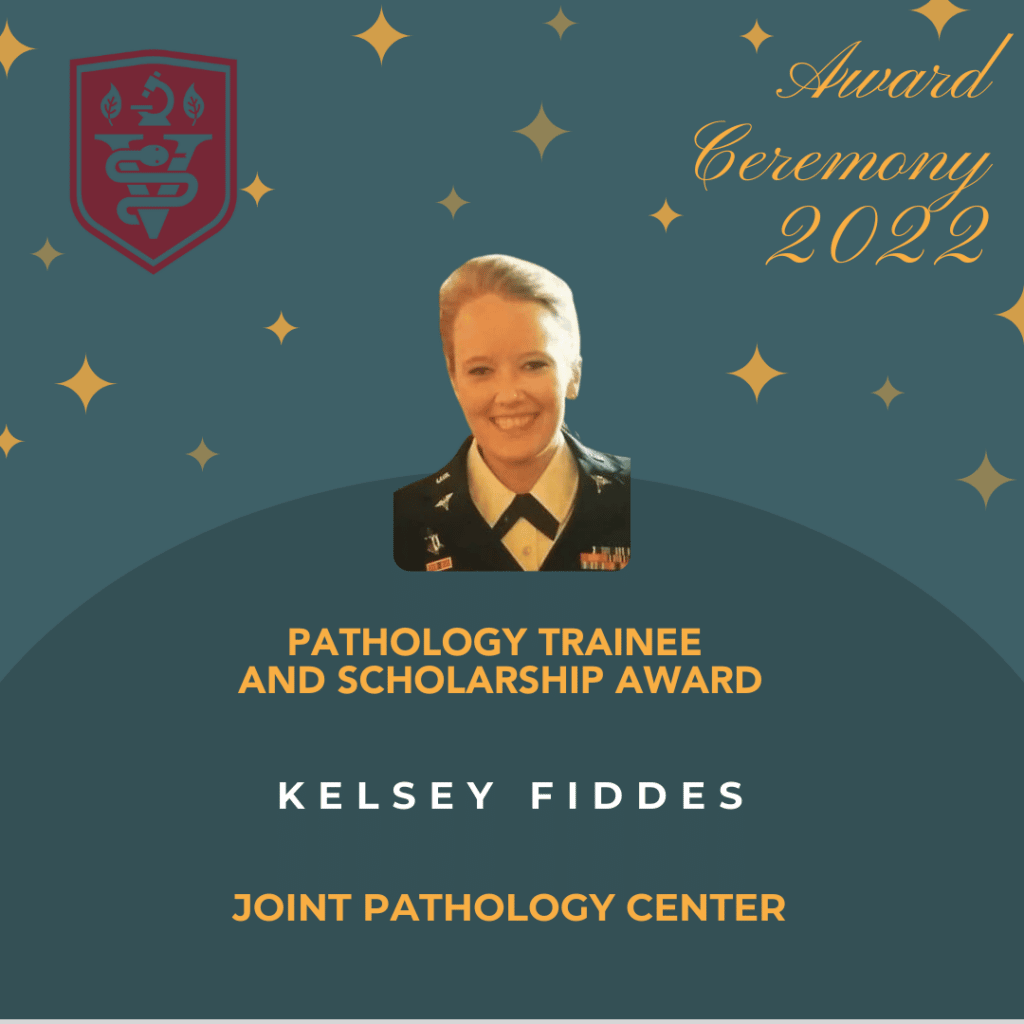 Joint Pathology Center: MAJ Dr. Kelsey Fiddes
Major (Dr.) Kelsey Fiddes recently completed her residency at the Joint Pathology Center; during this residency Kelsey performed remarkably well with her meticulous and thorough case workups and exceptional performance on mini-board exams and other periodic assessments. In these assessments, her microscopic descriptions were often "key-worthy" despite only a quick look and writeup in a classic board setting. In addition to her performance in these settings, with her impressive initiative and follow through she contributed significantly to the body of scientific knowledge by preparing and publishing 4 first-author manuscripts and 5 first-author abstracts, which is well beyond our expectations for residents in our program. Her primary area of interest is ocular pathology, in which she has already published case studies and reports, and she plans to pursue additional scholarly activities post-residency. In her first post-residency utilization assignment she has been selected as a faculty member of the Joint Pathology Center residency program, and will serve as Chief, Resident Training. In this position she will inspire and educate the DOD's next generation of pathologists while providing, diagnostic, research, and scholarly activity that ultimately supports US military service members and their families.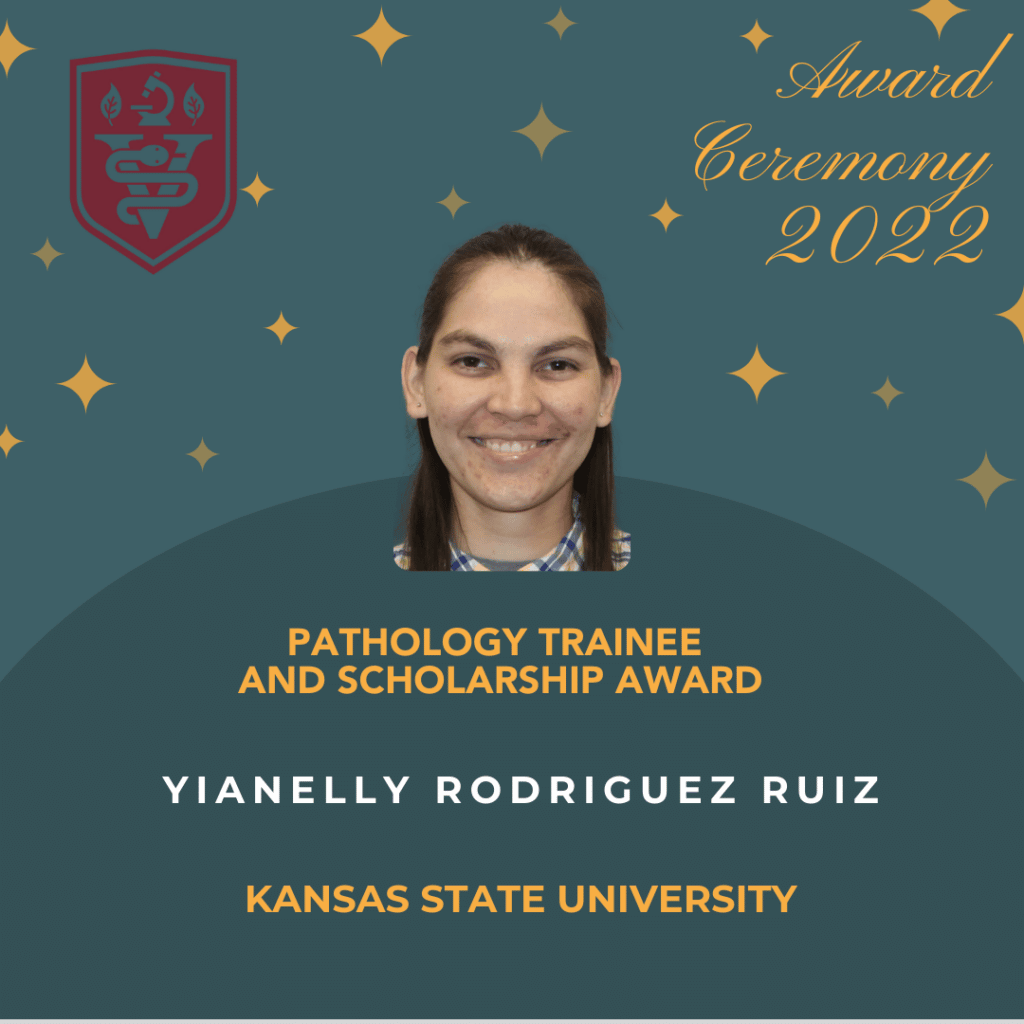 Kansas State University: Dr. Yianelly Rodriguez Ruiz
Yia came to our anatomic pathology residency training program at KSU in 2019 after completing her undergraduate degree at the University of Puerto Rico, her veterinary degree at Tuskegee University, and a one-year anatomic pathology internship, also at Tuskegee University. As a new resident, Yia was quickly recognized to have a strong work ethic, a pleasant and engaging personality, a great sense of humor, and expertise in Marvel and DC superhero comics and movies. During her residency, Yia demonstrated excellent teaching and veterinary student mentoring capabilities and strong diagnostic skills. As a senior resident, she made substantial contributions to our 2nd year veterinary systemic pathology course by planning and teaching numerous lectures and labs. This summer, Yia completed her residency program, took the Phase II exam in August, and in September, we welcome her to KSU as our newest Assistant Professor in Anatomic Pathology.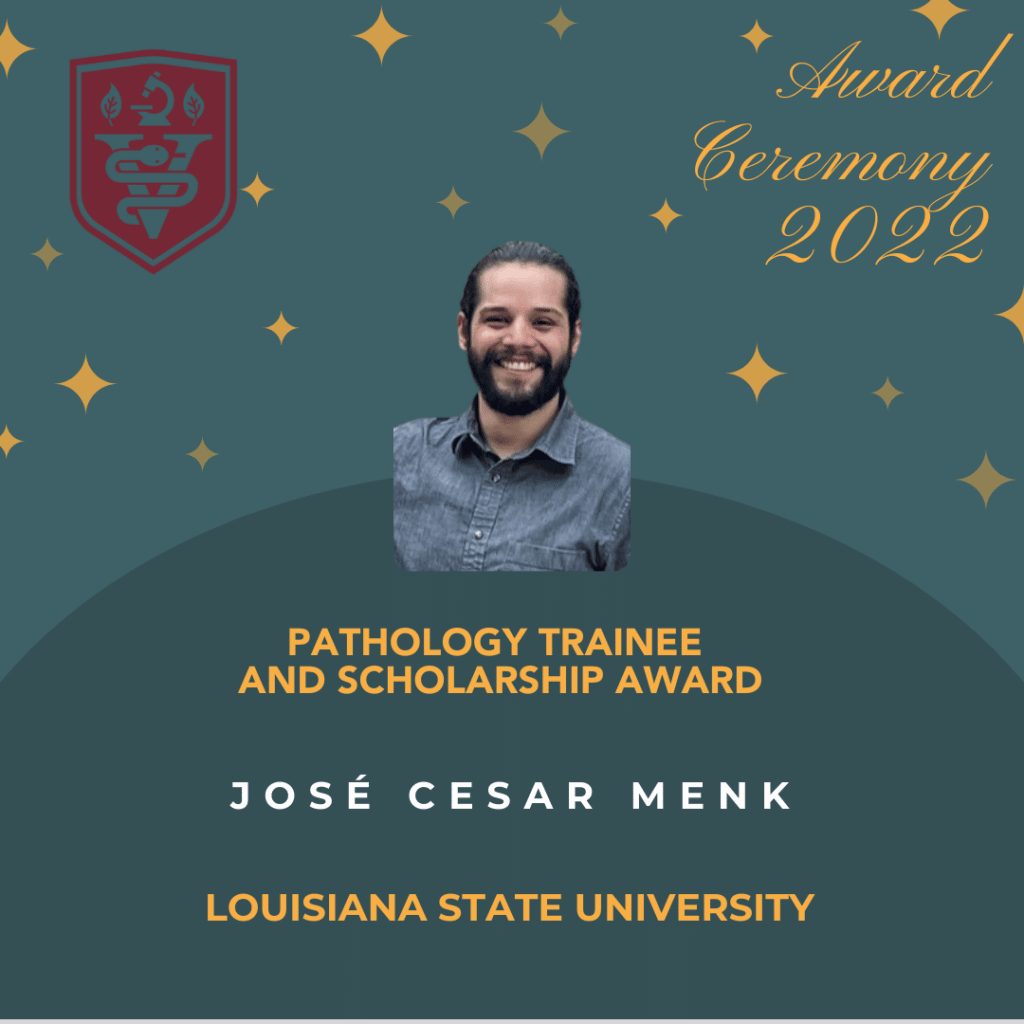 Louisiana State University: Dr. José Cesar Menk
Cesar Menk is currently a senior anatomic pathology resident at Louisiana State University and Louisiana Animal Disease Diagnostic Laboratory. Over the past three years, he participated, with his colleagues and mentors, on a dynamic diagnostic routine composed of necropsies and biopsies on multiple domestic and exotic animal species. During his time as a resident, he had the opportunity to attend multiple seminars and conferences, presenting some of the interesting cases received in his rotations. He also authored and co-authored manuscripts together with clinicians and pathologists, and took part in collaborative works with researchers at LSU's Department of Pathobiological Sciences. Cesar is native to Brazil, where in 2017, he finished his first residency in anatomic pathology at the University of São Paulo (USP).
This fall, he will join the faculty ranks at LSU as a Clinical Assistant Professor in Anatomic Pathology, where he will be part of the diagnostic routine as well as teaching and training veterinary students and residents.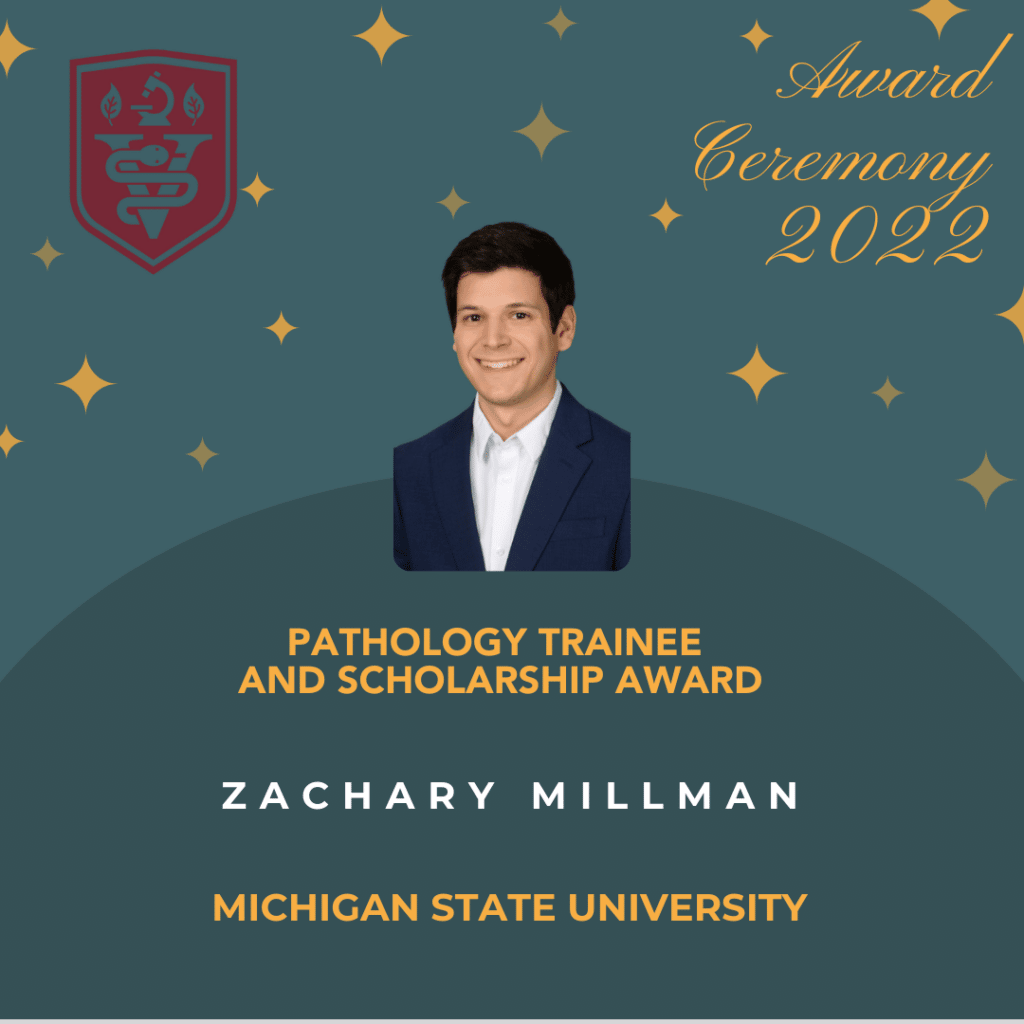 Michigan State University: Dr. Zachary Millman
Dr. Zachary Millman is a fellow in the NIH Comparative Biomedical Scientist Training Program in partnership with Michigan State University (MSU). He completed his anatomic pathology training at MSU in 2021 and joined the lab of Dr. Lalage Wakefield at the National Cancer Institute in Bethesda, MD where he studies the role of TGFβ in breast cancer metastasis. Dr. Millman has developed excellent diagnostic pathology abilities, shows great collegiality, and recently has demonstrated significant research accomplishment in his PhD work. Dr. Millman maintained a perfect GPA on his PhD coursework, has presented at regional and national meetings, demonstrates excellent communication and leadership skills, and is very collegial with other residents and faculty alike. Dr. Millman is poised to become an excellent pathologist, researcher, and mentor to future veterinary students and pathology residents. He is very deserving of the 2022 Davis-Thompson Foundation Trainee Scholarship Award for MSU.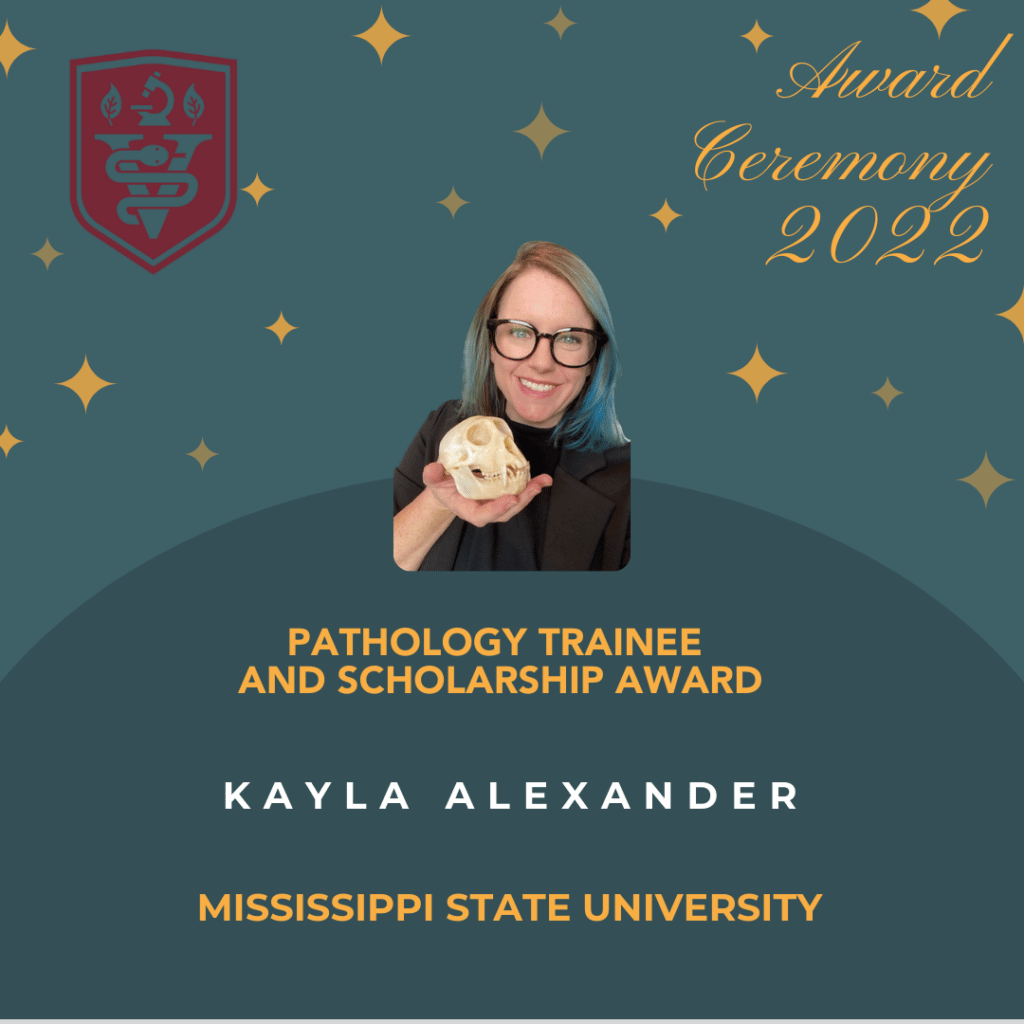 Mississippi State University: Dr. Kayla Alexander
Dr. Kayla Alexander, from Steens, MS is a third-year resident of anatomic pathology at Mississippi State University.  Kayla is pursuing a career in diagnostic pathology with a special interest in laboratory animals. Over the course of her residency, Dr. Alexander has become an accomplished pathologist and lecturer.  She annually participates in the instruction of first-year veterinary students in the Introduction to Veterinary Pathology course, and is integral to the organization, development, and instruction of the three-hour accompanying pathology laboratory.  Kayla also routinely instructs third year veterinary students on the necropsy floor during her assigned necropsy duty weeks and on weekends. Dr. Alexander has honed her public speaking skills by presenting cases (both oral presentations and posters) each year at the Annual American College of Veterinary Pathology meeting and she has also presented in person at the 2022 Southeastern Veterinary Pathology Conference at Tifton, GA.  In addition to these accomplishments Kayla has formed strong working relationships with residents and professors across multiple MSU-CVM departments and disciplines. She is ethical, reliable, highly motivated and will undoubtably have a long and wonderful career ahead of her.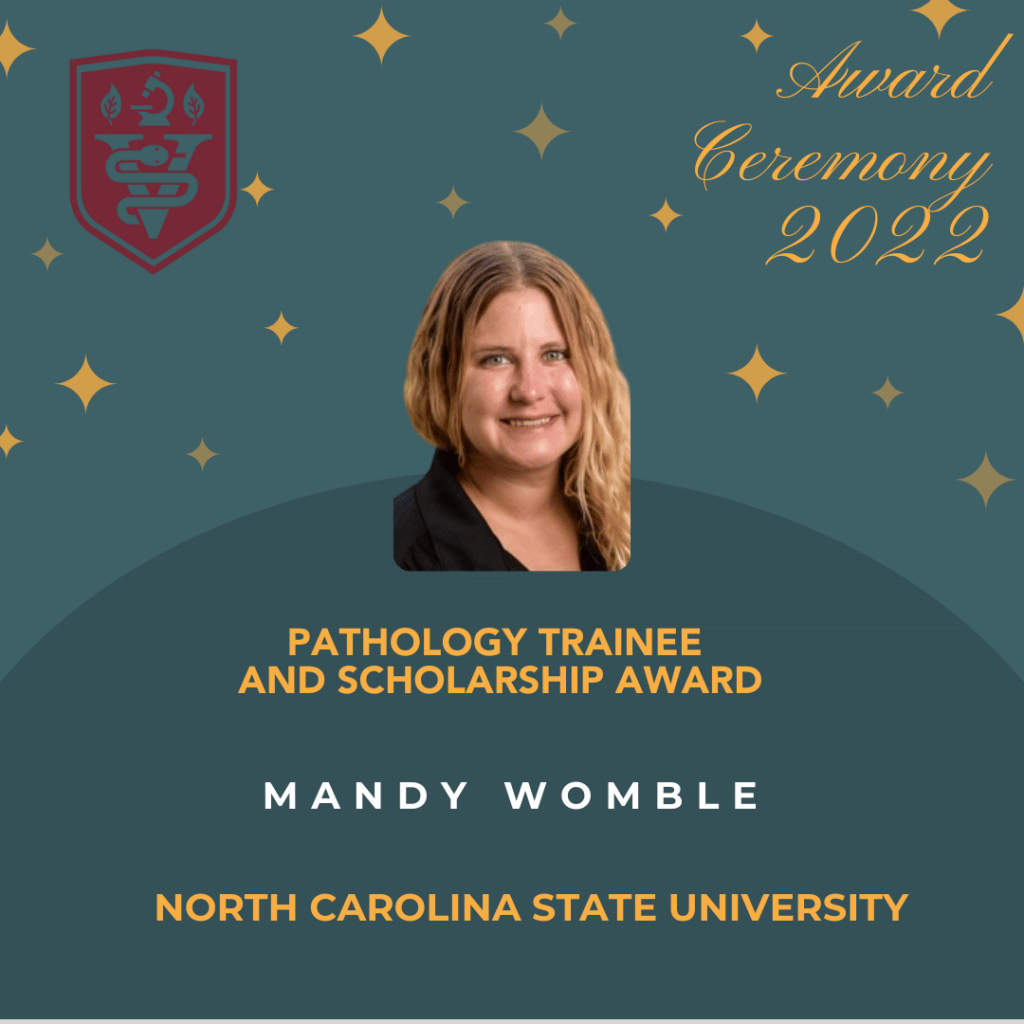 North Carolina State University: Dr. Mandy Womble
Dr. Mandy Womble has spent a good portion of her life at NCSU CVM, completing both her veterinary education and PhD program here, prior to starting as an anatomic pathology resident in 2020. Not only has Dr. Womble become an excellent diagnostician, Dr. Womble has proven to be a personable colleague, enthusiastic researcher and strong mentor. She enjoys pathology of all creatures, great and small, and will continue to expand our understanding of disease pathogenesis in exotic and wildlife species in her future career. Her passion for and inquisitiveness in her work as a pathologist is positively infectious! Her ability to balance work and personal life, and achieve the success that she has, is quite admirable. We have all thoroughly enjoyed working with Dr. Womble and are excited to see her embark on her next adventure as a full-fledged zoo/wildlife pathologist.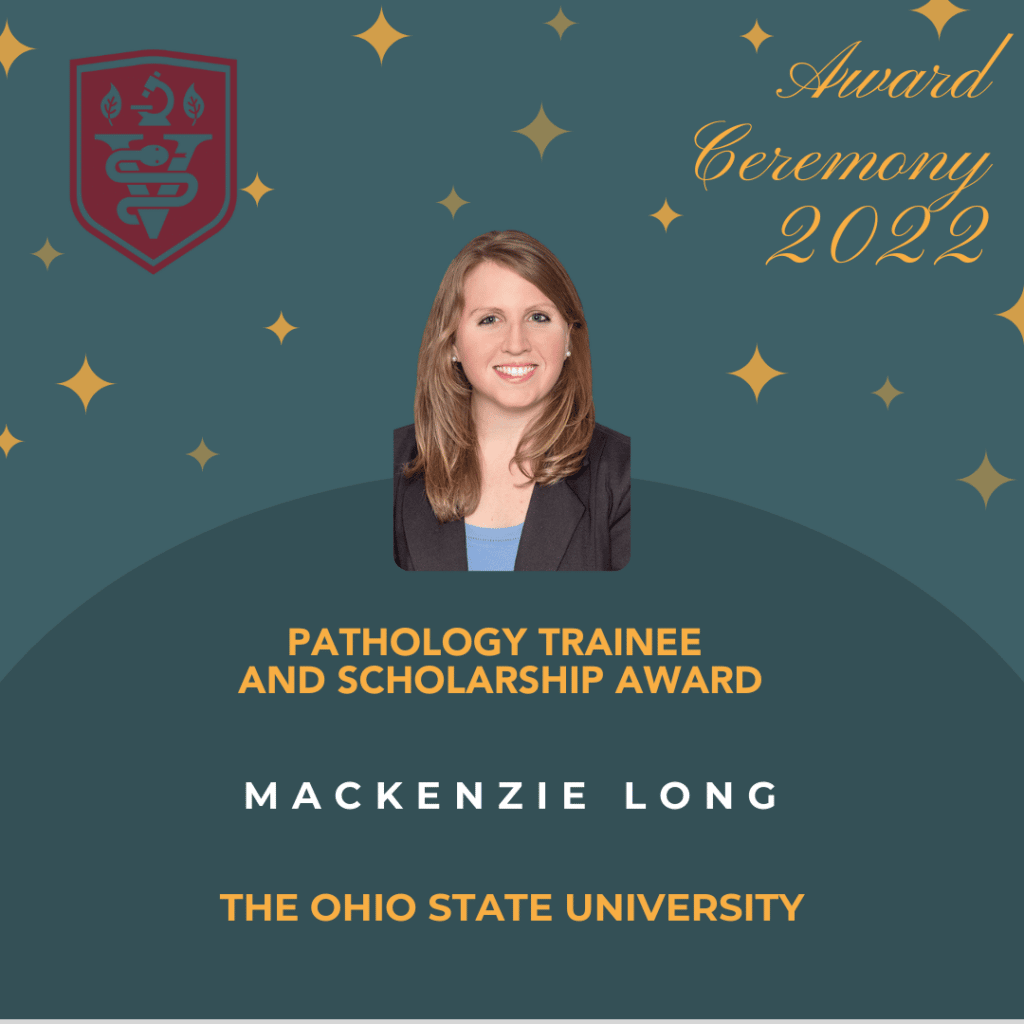 The Ohio State University: Dr. Mackenzie Long
Dr. Mackenzie Long is on a clear path to success as a diagnostic pathologist, research scientist, and teacher. Her goal is to enter academia where I truly believe she will become a leader in her field. Not only is she a competent diagnostician and teacher, I often refer to her as a diamond in the rough due to her incredible research experience and scholarly productivity both before and during her combined program training. Her past experiences in research have been strong and diverse, including training in oceanography, chemistry, and biomedical research fields. At OSU, her dissertation research is focused on characterization of resistance to PRMT5 inhibitor therapy in mantle cell lymphoma. She has received several awards for her research, including from the ACVP and a F-32 Postdoctoral Fellowship, and has a successful track record of scholarship, including 3 first author publications and multiple co-author publications and presentations.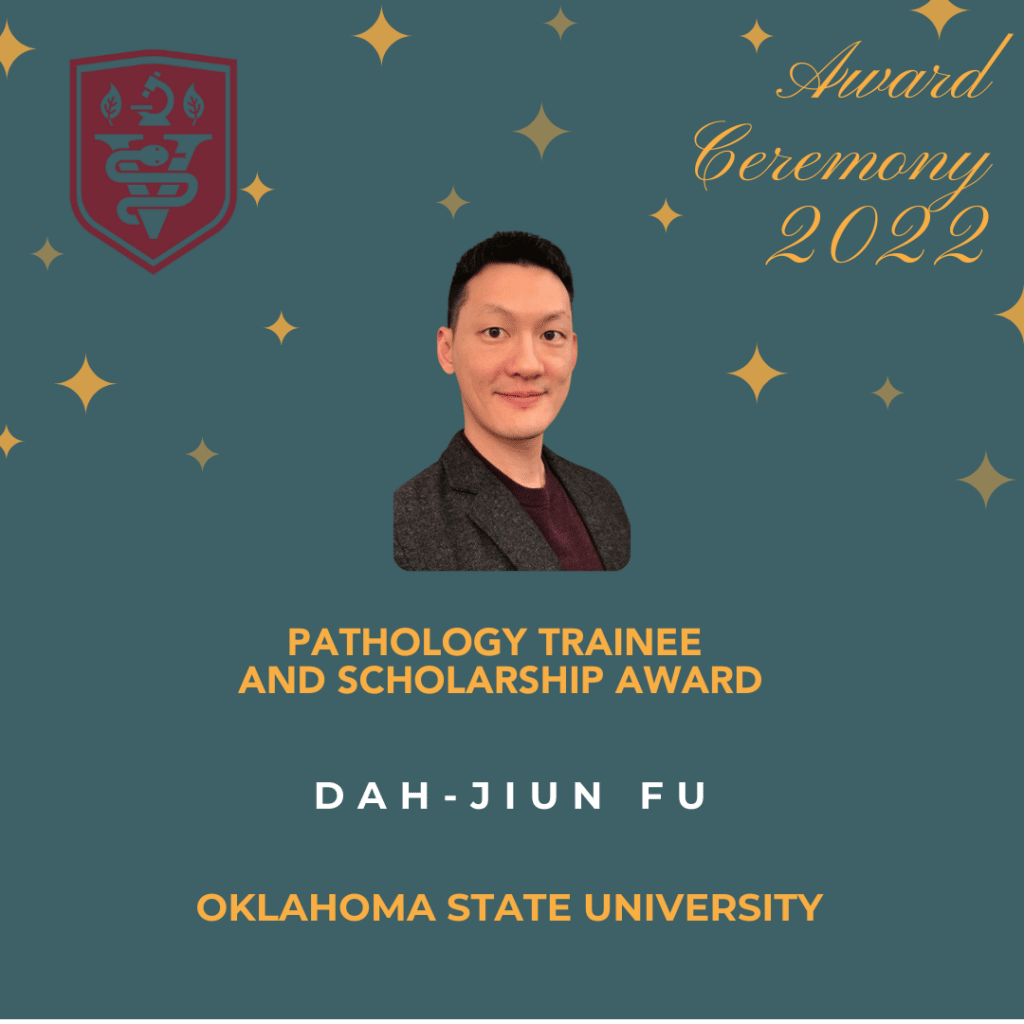 Oklahoma State University: Dr. Dah-Jiun Fu
Dr. Dah-Jiun Fu recently completed his anatomic pathology residency training in the Department of Pathobiology, College of Veterinary Medicine at Oklahoma State University. Dah-Jiun was a valuable and talented addition to our department, and what radiated from his persona were the character traits of ambition, fortitude, and passion, in addition to being well equipped and proactive. It is these qualities that have solidified his success in the training program. Dah-Jiun was always timely with trimming of tissues and exceptionally prepared for reviewing cases with faculty members. Dah-Jiun was patient and professional during teaching of 4th year students during diagnostic rotations as well as with 1st year students in General Pathology lab; thoroughly discussing concepts related to necropsy protocols and procedures (for the former), as well as delving into clinically relevant, pathological aspects of disease. Dah-Jiun was always well-prepared when moderating resident rounds, exhibiting confidence and assertiveness. Dah-Jiun had also engaged in case-based departmental research projects, and one project resulted in the publication of a first author manuscript, through the Journal of Veterinary Diagnostic Investigation. He presented an abstract on this case at the 2021 AAVLD/USAHA annual meeting in Denver, CO. In conclusion, Dr. Dah­ Jiun Fu exhibits many attributes that have not only facilitated his accomplishments while in residency training, but will also lead to his fruition as a veterinary pathologist.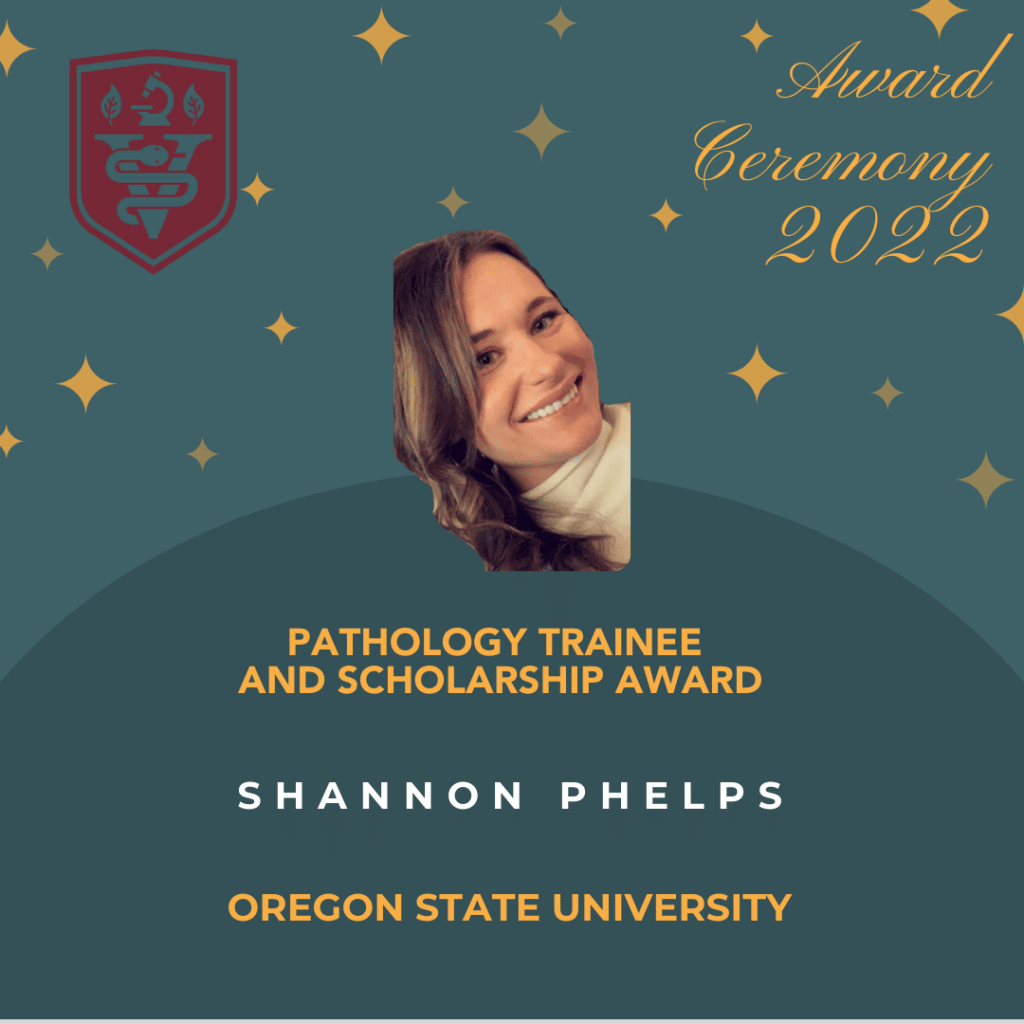 Oregon State University: Dr. Shannon Phelps
Dr. Shannon Phelps is a third-year resident in clinical pathology at Oregon State University's Carlson College of Veterinary Medicine. Dr. Phelps has been a huge asset to our program. Prior to her residency, Dr. Phelps served as a small animal practitioner and thus has a strong clinical background which enables her to integrate her prior experience with her current training. She currently spends 50% of her training on clinical duty assessing cytological samples and consulting with clinicians. As our sole resident, she is responsible for all house officer obligations for our service and is able to work independently very well. Additionally, she teaches the laboratories for the 4th year clinical pathology rotations, as well as assisting in the 1st year general pathology and the 2nd year systemic pathology and clinical pathology labs.  She has also written and delivered didactic lectures for several classes. Dr. Phelps is completing a graduate degree researching mesenchymal stem-cell derived extracellular vesicles.  Despite her rigorous schedule, she remains efficient and grounded. Finally, Dr. Phelps is an advocate for wellness and integration of house officers both locally and nationally. She is one of the resident liaisons for the national ASVCP trainee group. As one of two liaisons, she is responsible for voicing concerns, questions and input to the Executive Board for clinical pathology residents across the country. She also is a connection for future trainees, and she has assisted many individuals with their questions for residency positions and how to obtain more exposure to the discipline.  She is collegial, patient and an excellent colleague and advocate for our institution.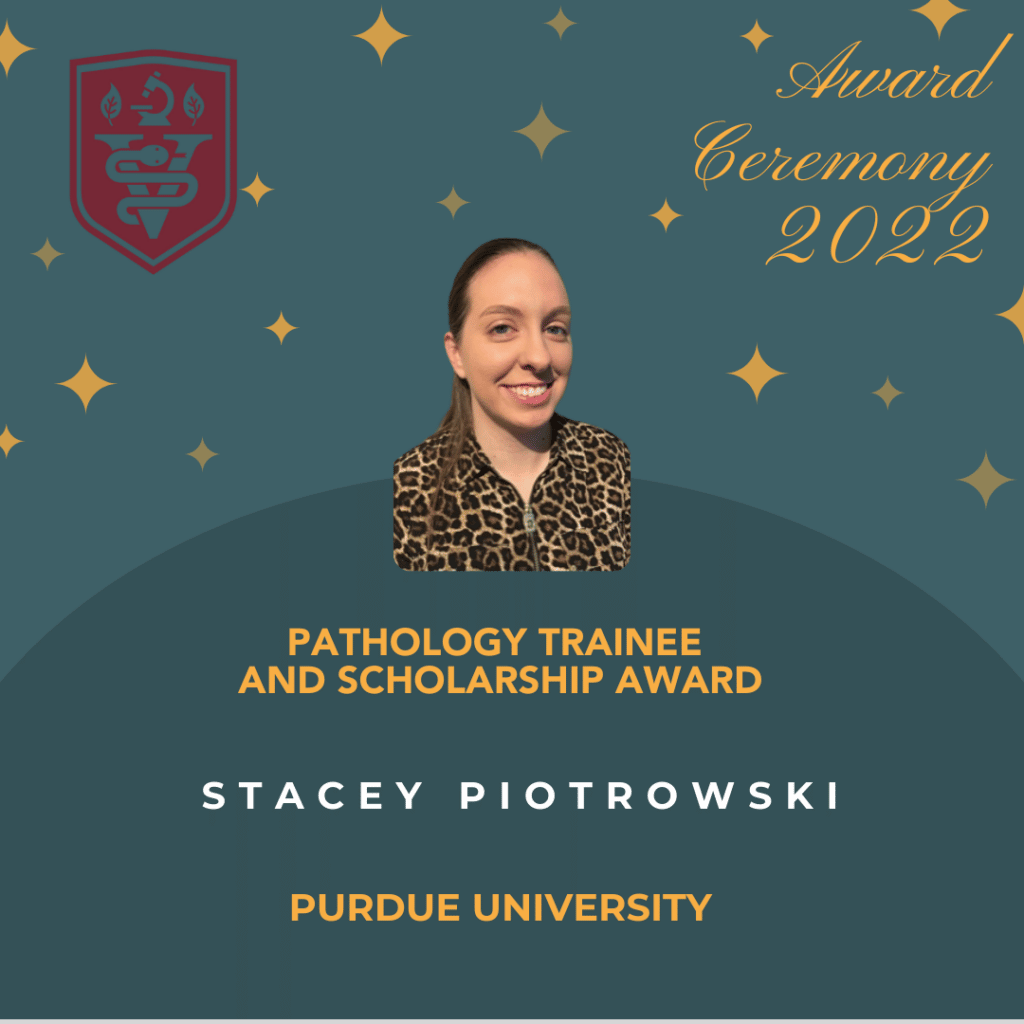 Purdue University: Dr. Stacey Piotrowski
Stacey Piotrowski completed a veterinary degree (University of Illinois) and residency in laboratory animal medicine (University of Texas Health Science Center), before joining Purdue University in 2018 as a fellow in the Comparative Biomedical Scientist Training Program at the NIH.  After two years' residency training in anatomic pathology, she transferred in 2020 (in the first year of the pandemic) to the National Institute of Neurological Disorders and Stroke as an NIH Molecular Pathology Fellow and Purdue PhD candidate.  She was certified by the ACVP in 2021.  Her doctoral research, performed in Steven Jacobson's laboratory, Viral Immunology Section, is an investigation into the role of herpesvirus infection in neurodegenerative disease.  Like the best scientists, Dr. Piotrowski has that unquenchable thirst for knowledge that makes her not only an outstanding graduate student but one who will forge her own path to independent research.  The pathology faculty at Purdue University are honored to present her for this scholarship award.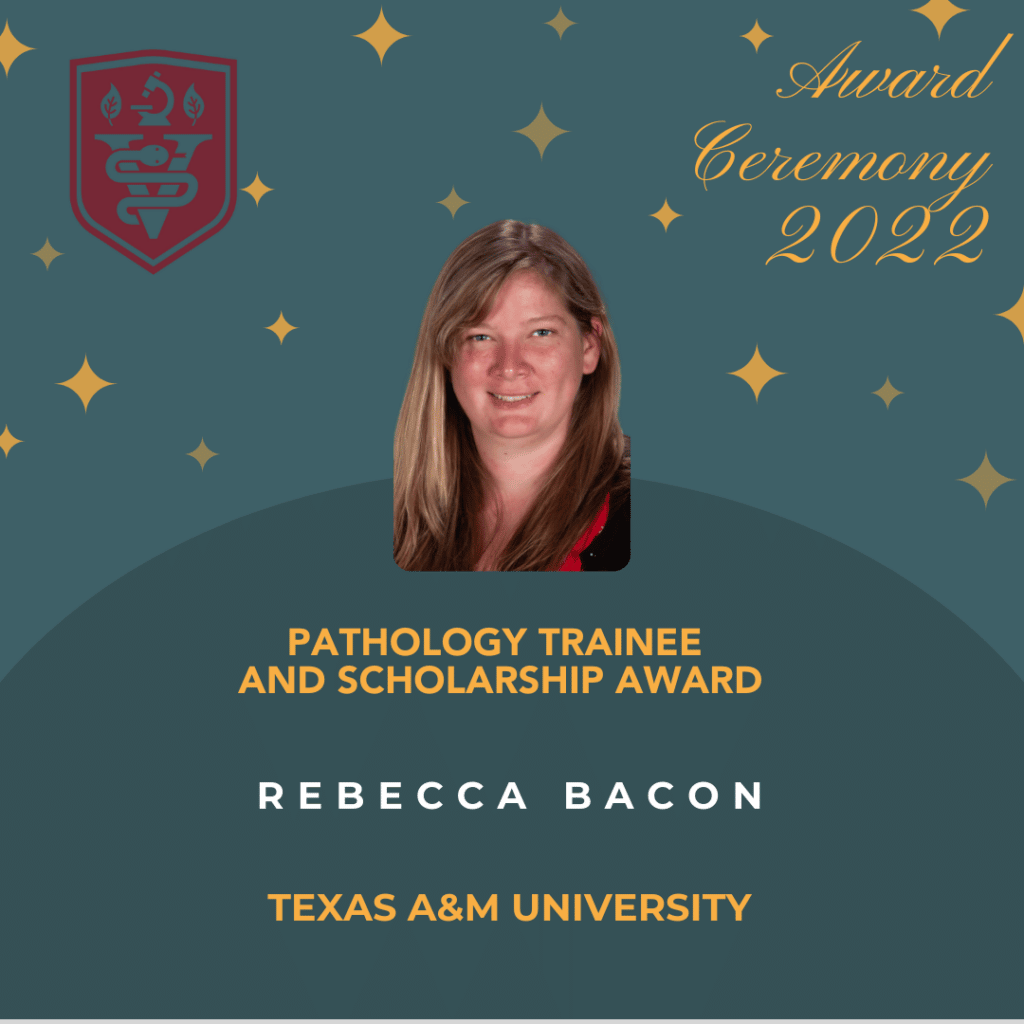 Texas A&M University: Dr. Rebecca Bacon
Rebecca Bacon joined the Texas A&M anatomic pathology residency program in 2019. She has a B.S. in Biology from The College of William & Mary and a DVM from North Carolina State University. After receiving her DVM, she spent three years in equine and mixed animal practice, followed by a one-year pathology internship at Kansas State University. Rebecca is a highly skilled and intuitive diagnostician and an excellent teacher. She has published three first-author publications and made a total of six presentations at local and national meetings. Rebecca is pursuing a PhD in conjunction with M.D. Anderson Cancer Center, exploring a potential macaque model of post-infectious irritable bowel syndrome. She is very collegial, dependable, hard-working, and dedicated to her job. Rebecca has a great sense of humor and is delightful to work with. Her career goal is to work in an academic/research setting.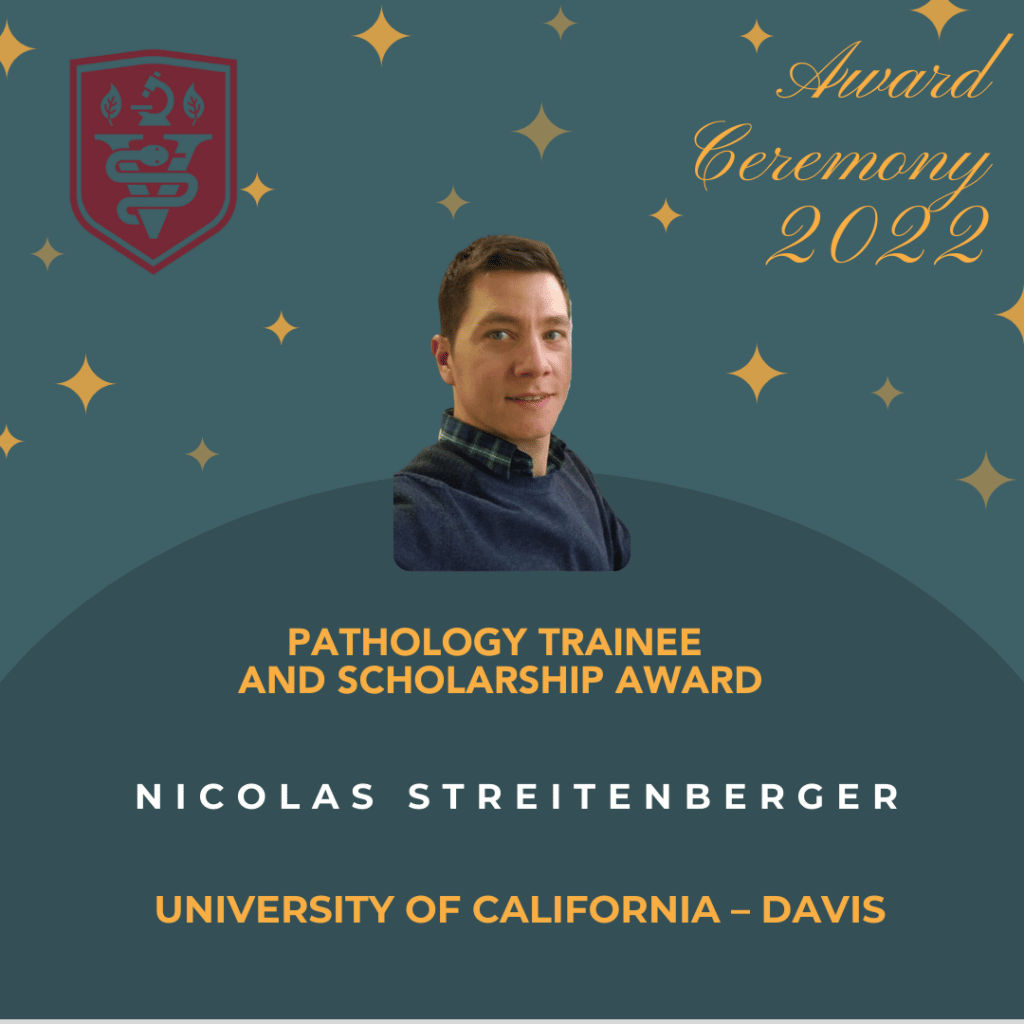 University of California – Davis: Dr. Nicolas Streitenberger
Dr. Nicolas Streitenberger (Nico) is presently an anatomic pathology resident at our state diagnostic lab, CAHFS, specifically at the branch in San Bernardino, California. He originally received his DVM from the School of Veterinary Sciences, National University of La Plata in Argentina, and then completed a PhD, also at La Plata, focused on bovine respiratory disease of feedlot cattle. Nico has been with us since 2020 and is in his third year of residency training. He has been incredibly productive in his residency. He has authored or co-authored five manuscripts with his fellow pathologists at CAHFS in addition to publishing work from his PhD dissertation research. Speaking with our faculty at CAHFS-San Bernardino, they have nothing but wonderful things to say about his diagnostic capabilities, his intellect, and his work ethic. But he is also an incredibly easy individual to work with- humble, unassuming, yet always insightful and helpful. He is someone that we will look at for years and be proud to have had a role in his training.
University of Florida: Dr. Marley Iredale
Marley was a model resident, eager to learn and always striving to improve her diagnostic pathology capabilities. Indeed, this dedication followed throughout her training, evidenced by her achieving American College of Veterinary Pathologists (ACVP) diplomate status soon after completion of the residency. She is a natural teacher, imparting this enthusiasm for learning to veterinary students and residents alike. As a testament to this teaching ability, she would readily volunteer to host lectures in the didactic pathology courses, even following the residency. Marley developed her leadership skills while a resident and I could always trust her to help provide the proper training and guidance to our junior residents. Strength in the biological sciences is a consistent feature of her academic career and we both have a shared interest in Entomology. Needless to say, I was quite happy to learn she would be pursuing a doctorate in this field, investigating honeybee diseases. Finally, in working with Marley, she is always very responsible, engaging, collegial, and shows true concern for her fellow workers.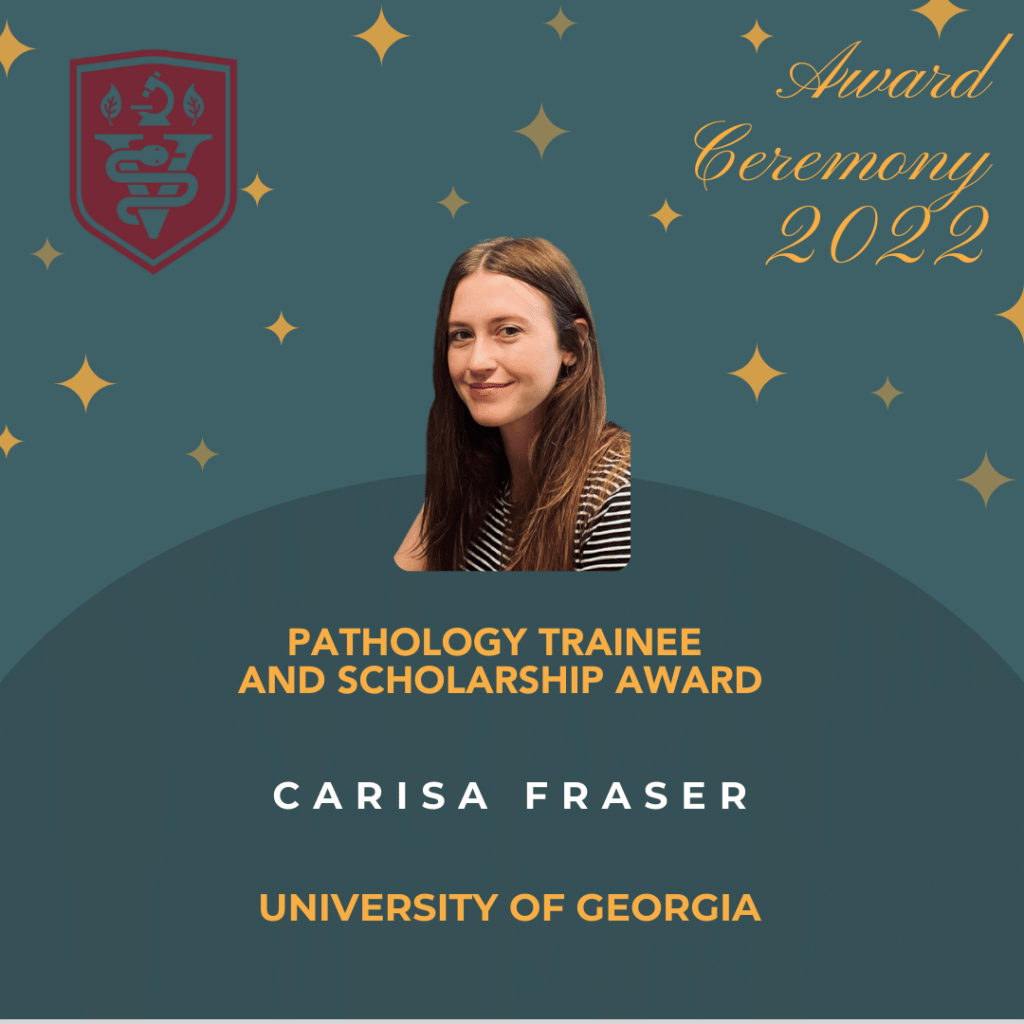 University of Georgia: Dr. Carisa Fraser
Dr. Carisa Fraser is nominated by the University of Georgia for the 2022 Davis-Thompson Foundation Trainee Scholarship.  Dr. Fraser recently completed her clinical pathology residency as well as her Master's degree at UGA, while winning multiple awards including the 2021 ASVCP Young Investigator award for her oral presentation entitled "Platelet function in heartworm-infected dogs: Evaluation of responses from platelet-rich plasma and whole blood samples".  She was also selected for the UGA Outstanding teaching assistant award which is reserved for those who demonstrate superior teaching skills in the classroom or laboratory.  Carisa excels in diagnostics, and she is a compassionate, dedicated clinical pathologist who is truly invested in contributing to the patient care team.  We are so excited to see where this career takes her.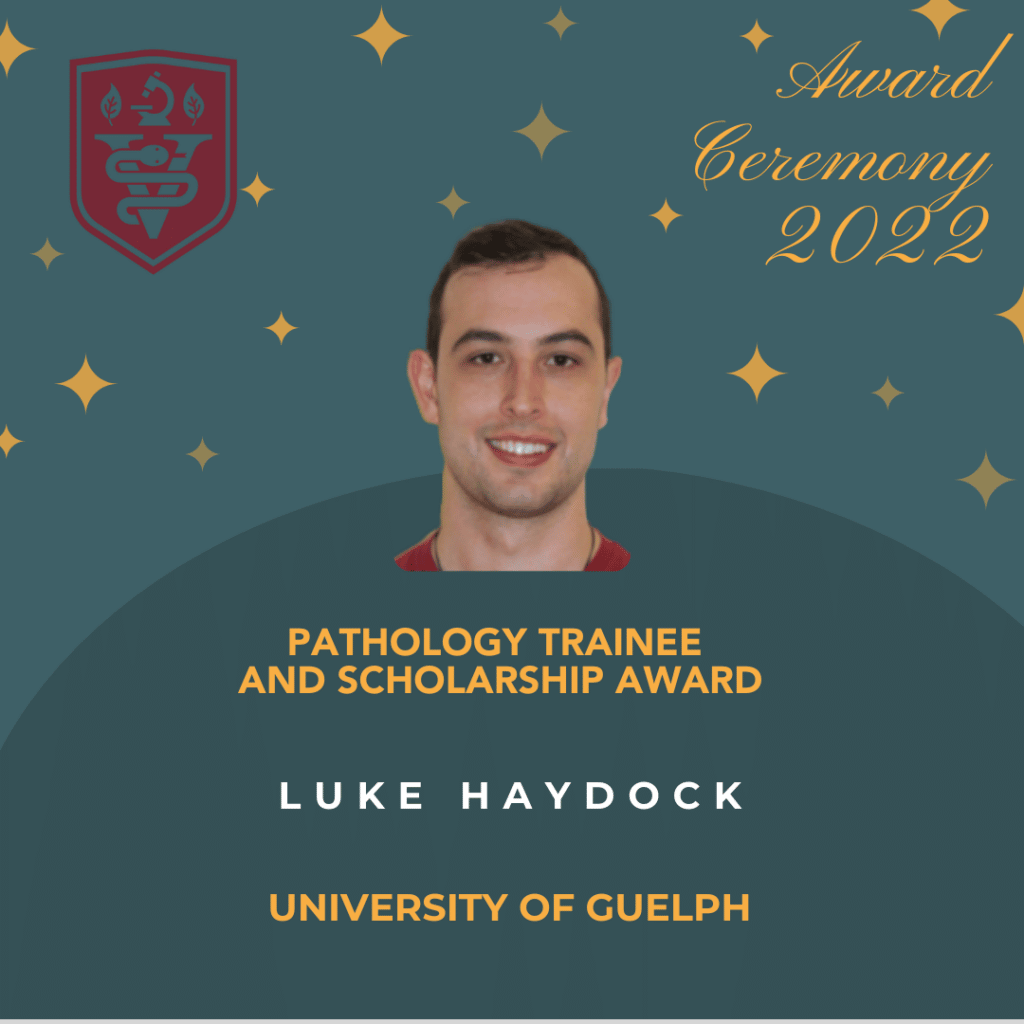 University of Guelph: Dr. Luke Haydock
Luke Haydock is an exceptional pathology trainee and DVSc graduate student. He has a keen intellect and a questioning mind, constantly striving for a clear understanding, and testing whether "off the cuff" explanations are truly plausible and if they have a basis in evidence. Luke consistently researches his cases at great depth and gains novel insights from that research, and he has great commitment to sharing those discoveries with his colleagues. Over the past 3 years, he has developed a very solid knowledge of veterinary pathology, and skill in investigation of complex cases. His case-based diagnostic investigations led to a publication on a case of canine tuberculosis that had public health significance and impacted our protocols for cases with zoonotic potential. Luke's DVSc research characterized and provided the first description of a common disease of feedlot cattle, known as "bronchopneumonia with interstitial pneumonia". Further work provided insights on pathogenesis and is a strong basis for ongoing work on the topic. Outcomes of this research include a published review paper, 2 primary research manuscripts, and communication of the findings to clinical veterinarians and diagnostic pathologists. Luke was successful in Phase I and is keenly awaiting the outcome of the Phase II ACVP Certifying Exam. Altogether, Luke's efforts during the 3-year DVSc training program have been highly successful and bodes well for the next stages of his career.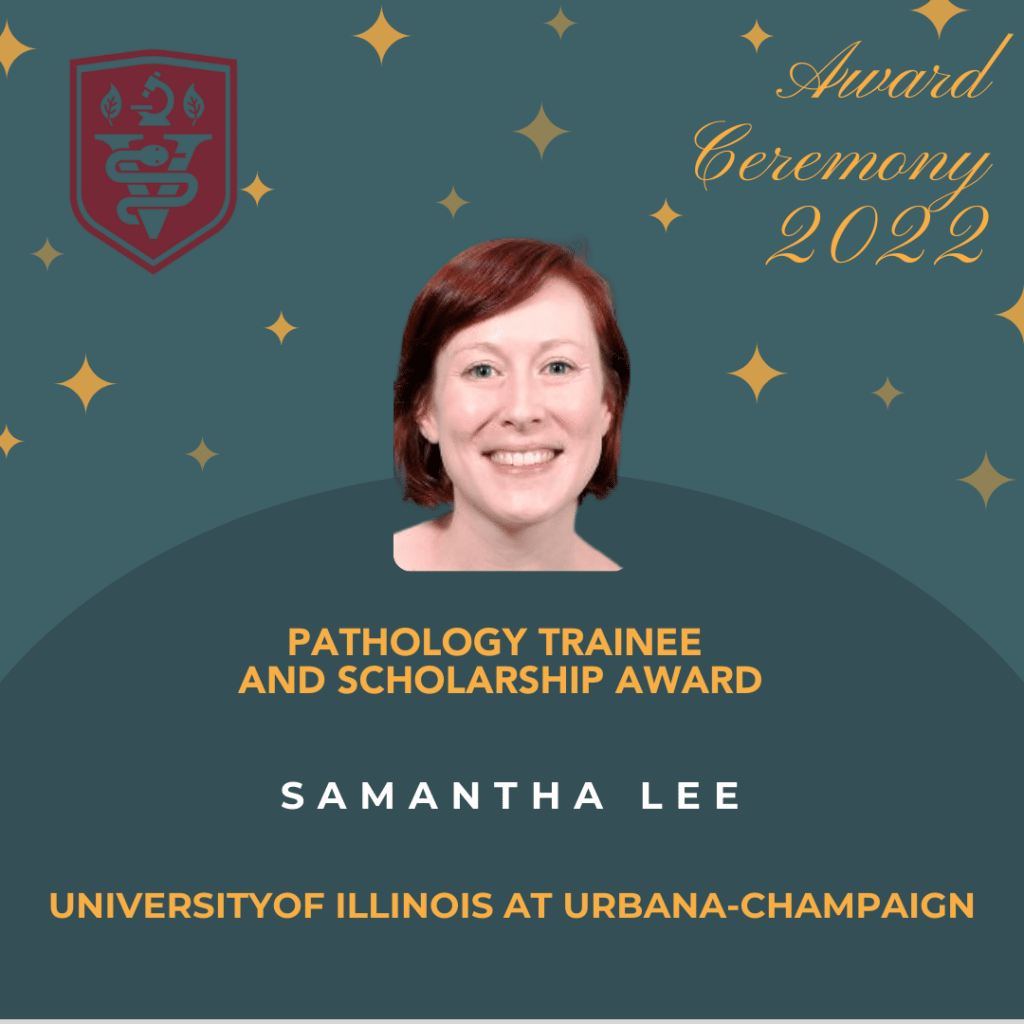 University of Illinois at Urbana-Champaign: Dr. Samantha Lee
Samantha Lee has exceeded expectations in all three missions of the University of Illinois, College of Veterinary Medicine during her time as a Clinical Pathology resident. She has been an integral part of our service team and provides thorough, yet concise reports to clinicians for cytology, hematology and urinalysis cases. Sam has also shown good rapport with referring veterinarians during in person and phone consultations. She understands their needs and provides appropriate advice regarding the next diagnostic steps for a case. Sam has also excelled in the area of teaching, mainly in providing mentorship to fellow residents and guidance to final year clinical students during our diagnostic medicine rotation. Lastly, Sam has successfully defended her Master's research and earned her MS degree. A lover of all things feline, she spearheaded the idea to focus on the diagnostic utility of feline serum amyloid-A. She presented her research as a platform presentation at the 2021 ACVP/ASVCP annual meeting. Sam will be continuing her career at the University of Illinois as a Lecturer in Clinical Pathology.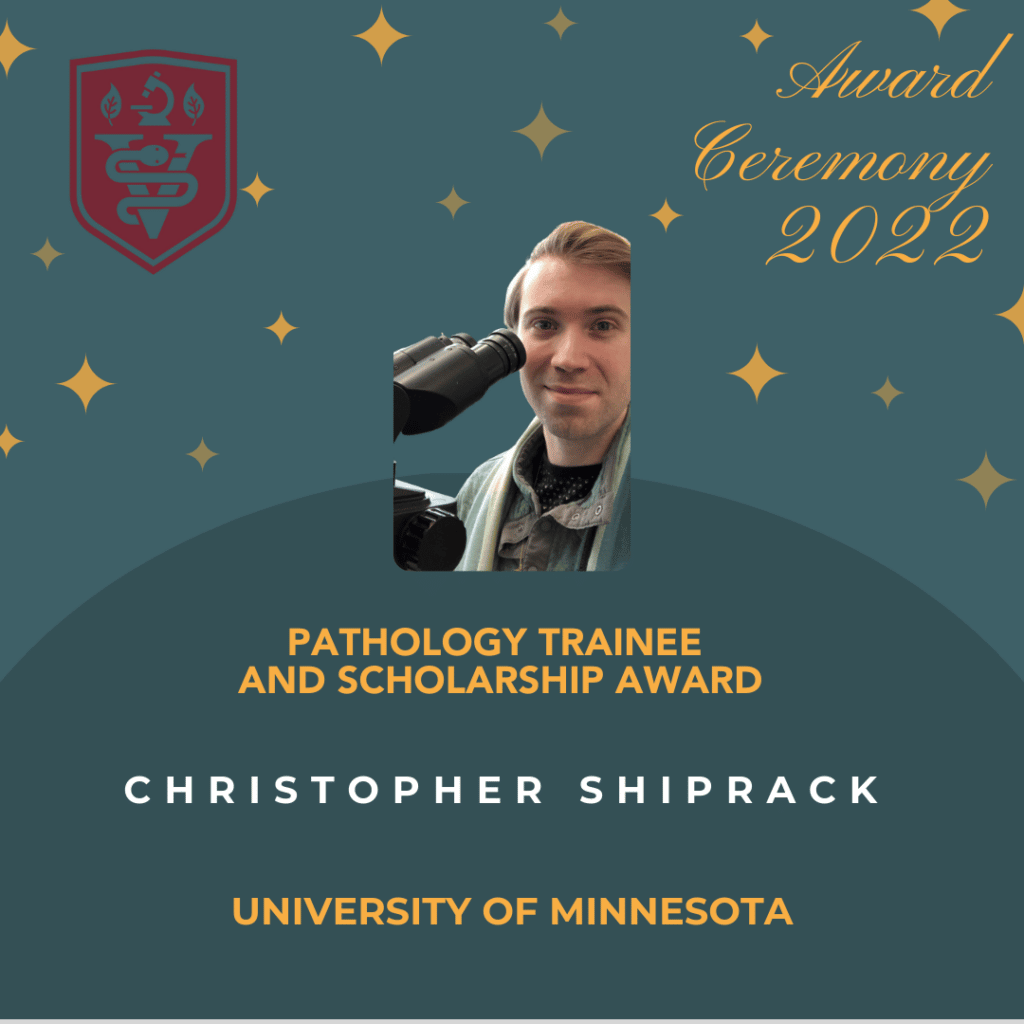 University of Minnesota: Dr. Christopher Shiprack
As a diagnostician, Christopher is the most dedicated and engaged trainee I have ever worked with. He treats every case as a unique learning opportunity and considers no sample routine. He takes nothing for granted and constantly seeks to understand why we make the diagnoses we make and how that process can be improved. Despite his ever-growing knowledge base and diagnostic acumen, Christopher is an absolute joy to train. He eagerly receives feedback and never fails to transform that feedback into action. As an instructor, Christopher is already operating at the level of a junior faculty member. He has a natural cadence and level of comfort that is unique for new trainees and beyond some established faculty. Since day one of his residency, Christopher has successfully taken over our weekly cytology rounds session and, in short time, has developed sessions that are noteworthy for their high attendance and high degree of interactivity (which, notably, dwarfs even some of the faculty). As a biomedical scholar, Christopher has prepared a successfully-funded grant application ("The Utility of Coagulation Testing for Predicting Prognosis in Free-Ranging Birds of Prey") and plans to matriculate into a PhD program upon completion of his residency. He has presented two cases at the ASVCP Mystery Slide session (and will do so again in 2022) and presented a 2-hour student lecture on exotic animal hematology at the 2022 SAVMA National Symposium. As a future leader in our profession, he is currently a resident liaison for the ACVP and ASCP and also serves on the ASVCP Education and Media / Communication Committees. He is curious, passionate, and in possession of a relentless work ethic. Lastly, he is a joy to work with. He is thoughtful, personable, compassionate, and very much beloved by the members of our lab and Veterinary Medical Center.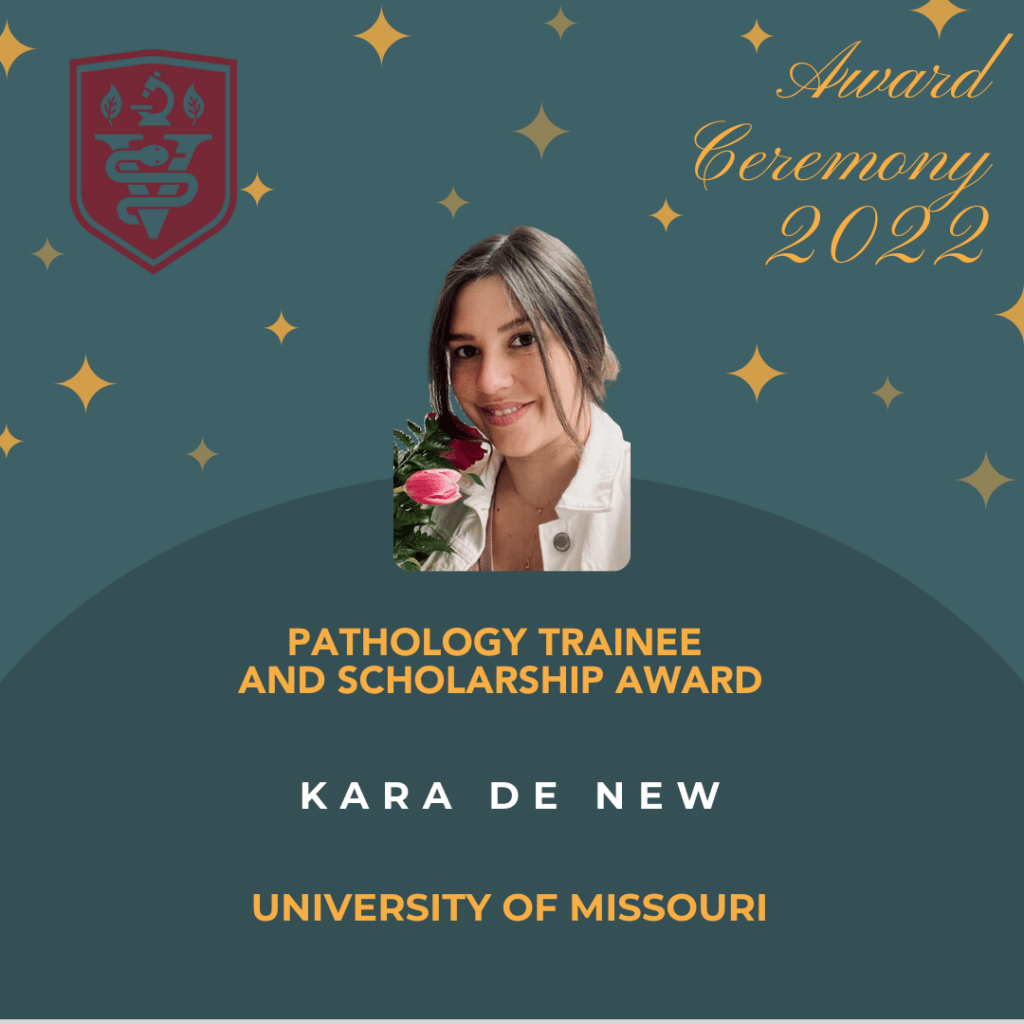 University of Missouri: Dr. Kara De New
Kara De New completed her clinical pathology residency at the University of Missouri in 2022. Kara was a dedicated trainee who never shied away from extra work and always helped to elevate our team and especially her resident mates. During (many) times of short-staffing during her residency, Kara would readily lend a hand to help out wherever needed. She was instrumental in converting our clinical rotation to a remote style of instruction, and then in converting back to a face to face mode of instruction. The instructional changes Kara helped put in place throughout a tumultuous two years have led to permanent improvements in our rotation. We were all impressed by Kara's strong diagnostic skills throughout her residency, and she was able to share her insights with the veterinary pathology world through multiple publications and presentations. Our lab misses Kara greatly already, but we know that her future colleagues and clients will be equally happy to work with her.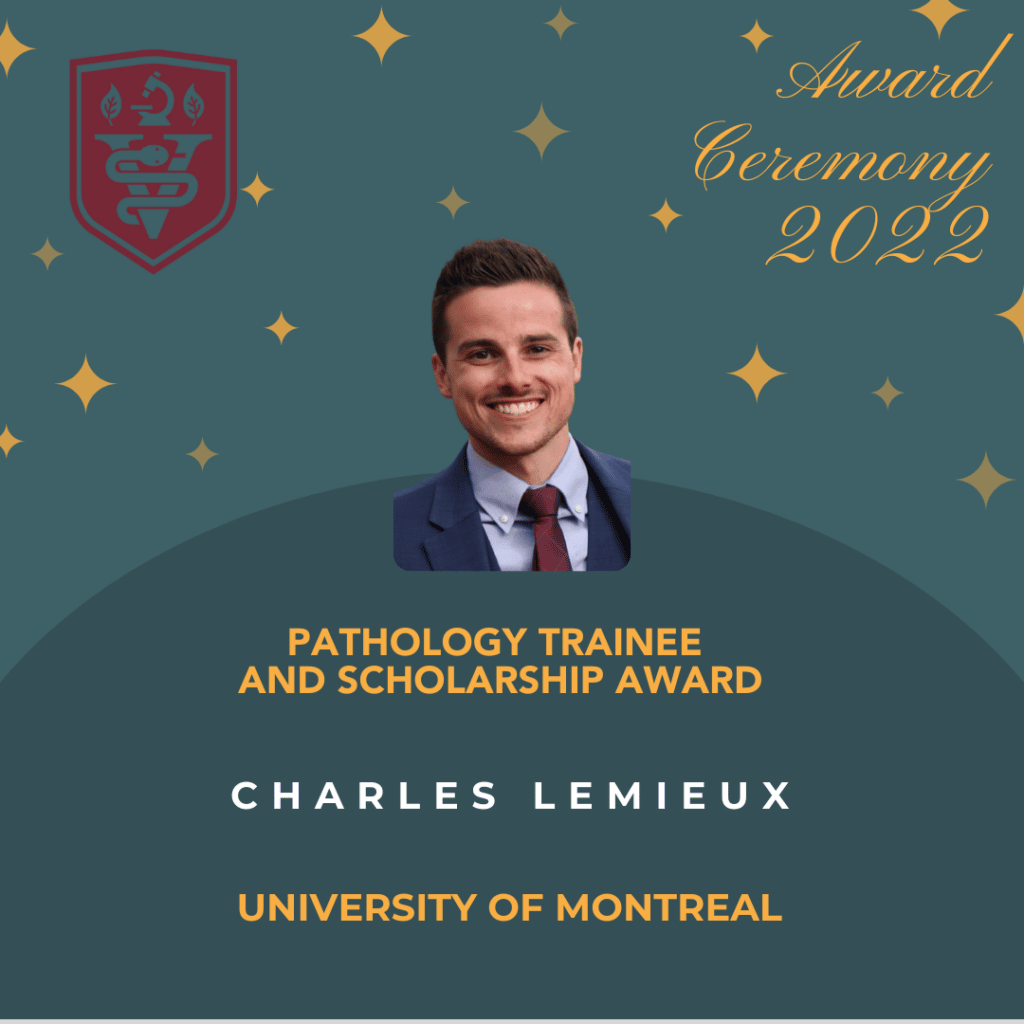 University of Montreal: Dr. Charles Lemieux
Charles is entering his 3rd year of experience reading hematology, cytology and urinalysis, as well as interpreting several biochemistry reports on many different species. He works fast, efficiently and his reports are at an excellent level (our reports are written in French), with very few to no corrections at all. He has a thirst for knowledge and understanding in clinical pathology that goes beyond our clinics. He always follows up on cases in the literature, makes personal notes and is extremely well organized in both his textbook and journal readings and most of all, in the writing of his reports. He learns very quickly; as a current 3rd year resident, he has the skill set of a full clinician. The fact that Charles is quickly independent is one of his best skills; he can quickly prioritize, complete cases and recommend or even perform certain lab tests to help find solutions and complete the reports. He has excellent medical knowledge from doing a specialized internal medicine internship prior to his residency, accompanied by his continuous reading and research. He has the ability to fully run and improve the tests in the lab, as he retains detailed knowledge of our analyzers and stays up to date on upcoming or improved techniques in all areas of clinical pathology. Furthermore, his knowledge in urinalysis has grown exponentially due to his current residency research project, where he must independently evaluate hundreds of urinalyses from both dogs and cats. He follows through on his research as if he is the principal researcher. He has written and received two research fund awards to pay for his current clinical research and has the most inquisitive mind; questioning and wanting to improve his protocol.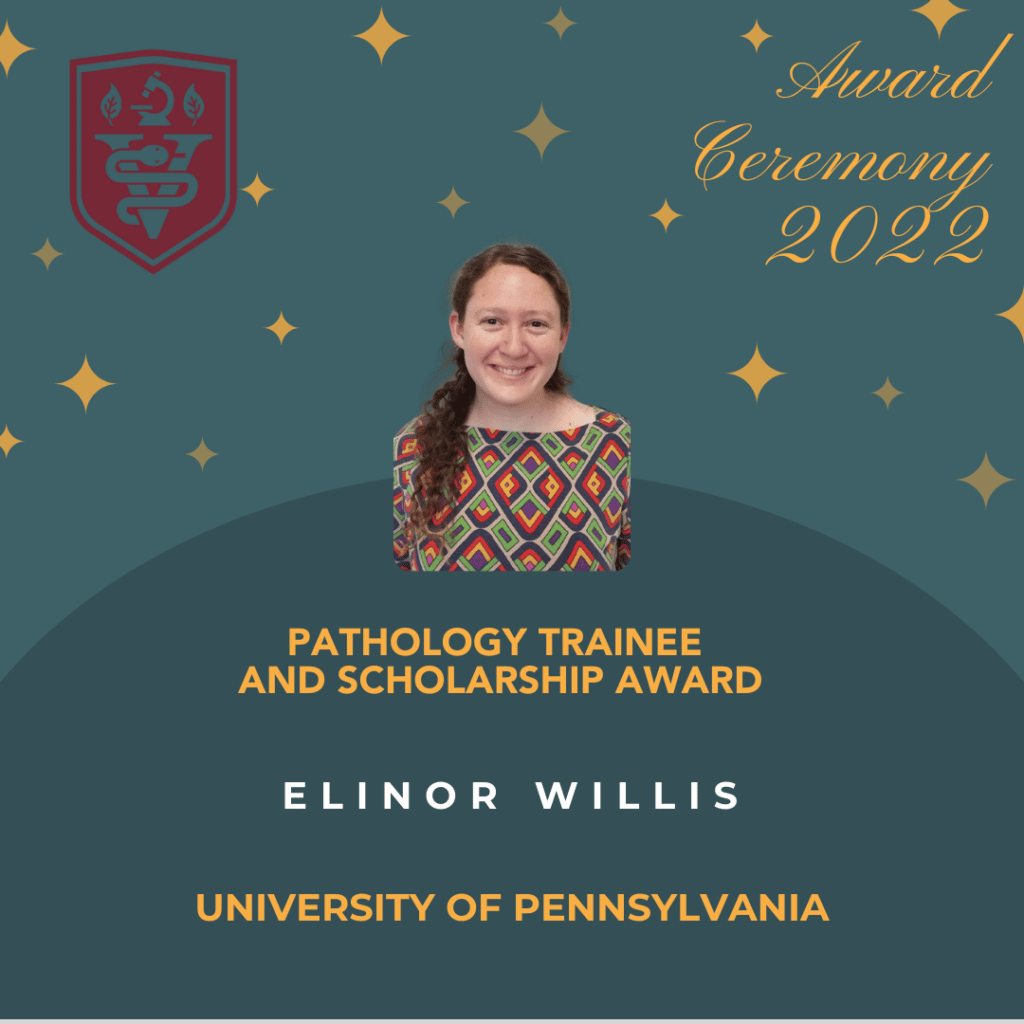 University of Pennsylvania: Dr. Elinor Willis
Prior to her residency, Elinor completed her PhD in the combined VMD-PhD program at Penn, and she brings these advanced critical thinking and research skills to her work as a pathology resident. Faculty pathologists have consistently noted that Dr. Willis's diagnostic skills are well beyond what would be expected for a resident at her training level. She has numerous publications, including those from her undergraduate and graduate research as well as several published during her residency training.
Elinor is a burgeoning pathologist with an obvious love of her profession. This is exemplified by the multiple projects she has taken on and pushed forward with the Comparative Pathology Core, and by her initiative to use her weeks off clinical service to sign up for additional specialty rotations through the ocular pathology and dermatopathology services. She takes clear ownership of her cases and is diligent in completion of her autopsy reports. She adeptly uses her cases as teaching tools for students on rotation, and her already keen diagnostic acumen is on display when she is on biopsy service. Aside from her residency training, Elinor is an avid gardener and is always excited to discuss plants and share her gardening expertise with those around her.
Elinor is never afraid to ask questions or to question dogma (exactly what we want in a trainee!), and we are a better program for having trained her as a resident.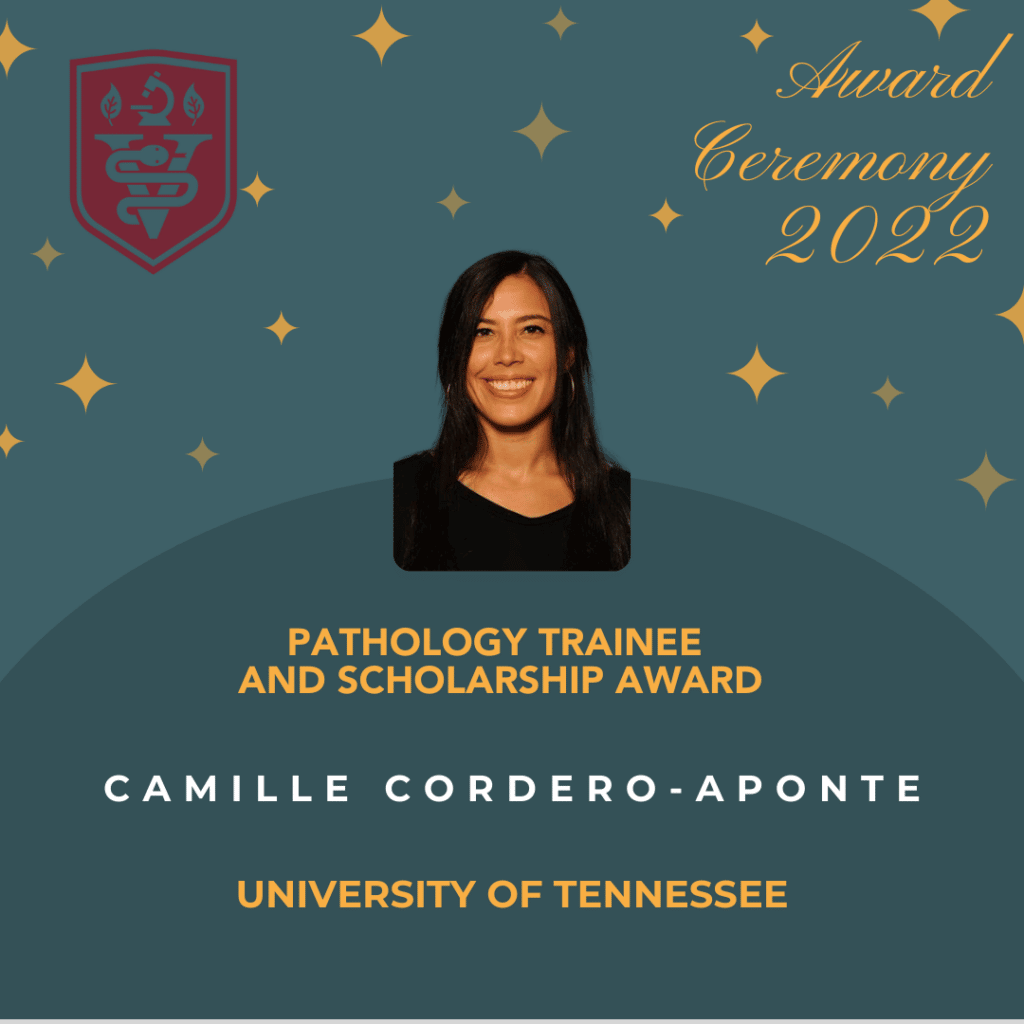 University of Tennessee: Dr. Camille Cordero-Aponte
Dr. Camille Cordero-Aponte is originally from Puerto Rico and joined our anatomic pathology residency program in 2020 after completing her DVM at The Ohio State University. She successfully completed Phase I of the ACVP exam in 2022 and will take Phase II in 2023. She has served courageously as our resident liaison, requiring her to organize faculty and resident schedules and advocate for her fellow residents, all while navigating interpersonal relationships. She is a proficient diagnostician, presently signing off on necropsy and biopsy cases independently. During her residency she has supported research on pathology in rehabilitated black bears, led a project on adenovirus in budgerigars, contributed to multiple case reports, written two image challenges, and delivered five presentations at various professional venues. Dr. Cordero is organized, productive, sharp, knowledgeable, eager to learn, willing to assist others, and has captured our hearts with her fun-loving attitude and infectious enthusiasm for our profession.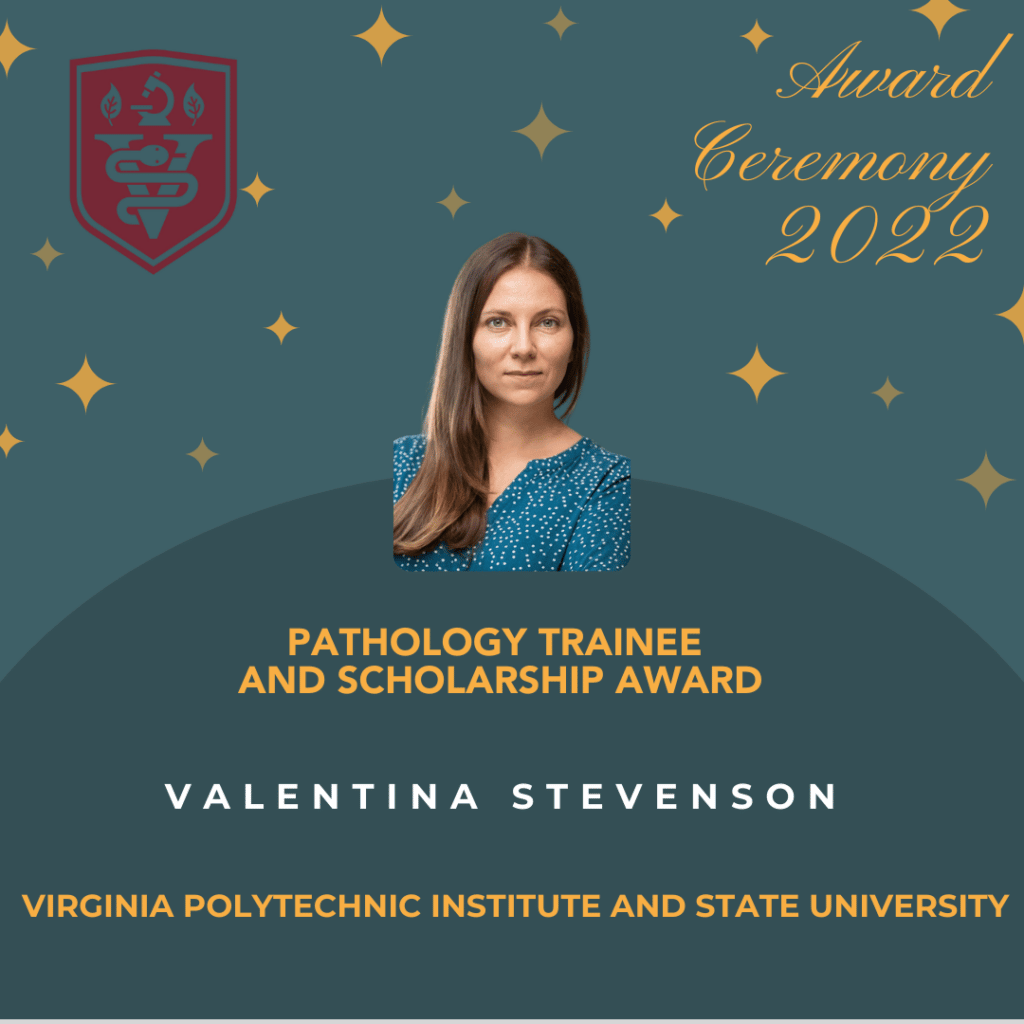 Virginia Polytechnic Institute and State University: Dr. Valentina Stevenson
Dr. Stevenson consistently demonstrates a strong work ethic, and she reliably takes the initiative to thoroughly work up cases beyond what is minimally asked of her. During my experience training residents, I have come to value these traits highly, and find that they are hard to teach if not already present. Valentina has a passion for teaching, and she is a tremendous asset on the necropsy floor in training our 4th year veterinary students as well as teaching in our pre-clinical curriculum. Her experience in private practice helps her to communicate clinically relevant skills and information to our DVM students in the context of postmortem cases. Among her many talents, Valentina is a professional photographer and her skills and experience in photography have been invaluable to us in optimizing our gross photography flow. Valentina has also excelled in the research portion of her training program. While I am not directly involved in her research program, I have collaborated with her in the past and can attest to the fact that she is driven to succeed and is prolific in her publication efforts. She has presented her research at the annual meetings of the American College of Veterinary Pathologists and the American Association of Veterinary Laboratory Diagnosticians. She was recognized for her scholarship, winning the Young Investigator Award and the Latin Comparative Pathology Group Davis-Thompson Foundation Travel Award at the ACVP annual meeting in 2019.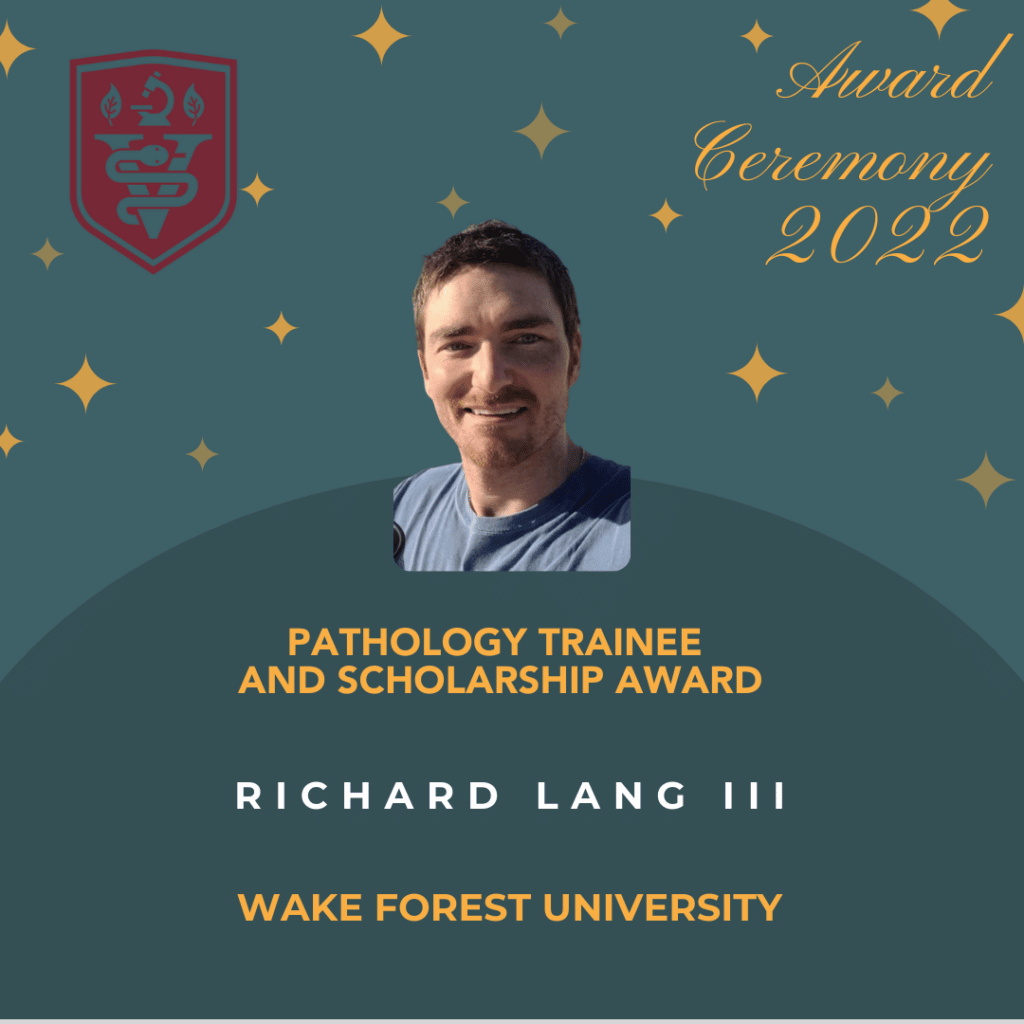 Wake Forest University: Dr. Richard Lang III
Richard (Chip) Lang received a bachelor's degree from the University of Maryland in 2006, and a veterinary degree from the University of Glasgow's School of Veterinary Medicine in 2011.  He received noteworthy awards during his veterinary training, including the McCall Award for graduating as top student in the class, the Hill's Prize for greatest small animal clinical competence, and the Prize for highest score in pathology.  He worked for several years in private practice, and then returned to academia to complete a Master's degree in nutrition from North Carolina State University in 2016.  He completed a residency in anatomic veterinary pathology at the Wake Forest University School of Medicine in 2022.  During his time at Wake Forest, he was first author on two publications, was also named on several others, and did a platform presentation for the Society for Toxicologic Pathologists National Toxicologic Program Symposium.  On a personal level, Chip has been a pleasure to work with during his residency.  He is enthusiastic, cheerful, dedicated, hard-working and unpretentiousness.  He has very conscientious mentoring skills which he has shared with his fellow residents, laboratory animal residents and veterinary externs.  He has also spent significant time volunteering for worthy causes.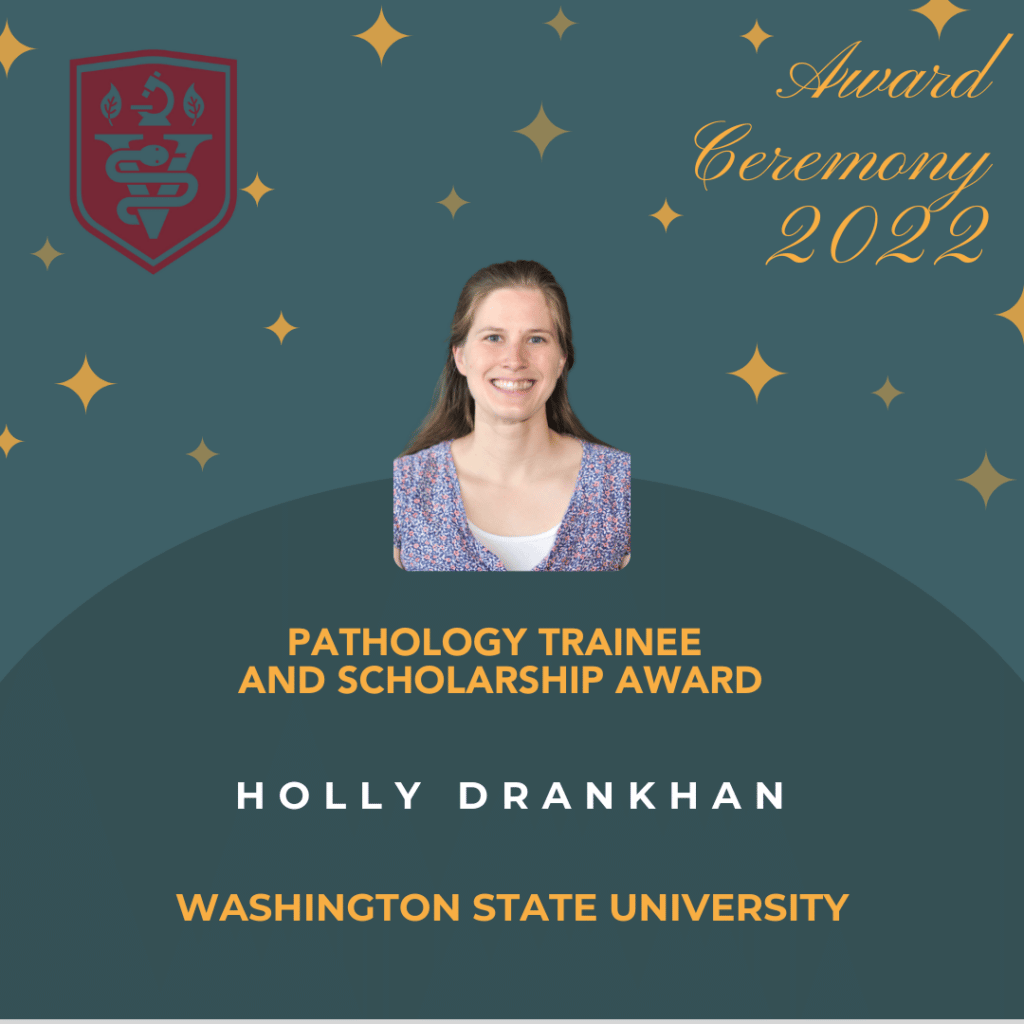 Washington State University: Dr. Holly Drankhan
Dr. Holly Drankhan joined the anatomic pathology residency/PhD program at Washington State University in 2019 after receiving her DVM degree from Michigan State University. Based on her exceptional academic performance at MSU, Holly was awarded a prestigious ARCS Foundation Scholarship to help support her graduate studies. At WSU, she has exceeded all expectations to become a truly superior diagnostician, with histopathology and gross pathology skills far beyond her years of training, all while maintaining a 4.0 GPA in her PhD courses. This success is a product of her impeccable work ethic, intelligence, attention to detail, professionalism, and resilience. Being on diagnostic service with Holly is something that all faculty pathologists look forward to because she does everything right, catches other's mistakes, and always gets her work done on time – not to mention she is fun to be around and has a great sense of humor. These qualities also made her an excellent instructor for veterinary students on the 4th year necropsy rotation and teacher in the 2nd year systemic pathology lab. Having completed the pathology-intensive portion of her program, Holly is now focused on her PhD research where she will be developing a captive elk infection model and profiling microbial communities within hoof lesions to further elucidate the etiology of the emerging treponeme-associated hoof disease in free-ranging elk of the northwestern United States. There is no doubt that Holly will excel in this area of her training and will go on to have an outstanding career in anatomic pathology.