The Award Ceremony was held during the ACVP/ASVCP Annual Meeting, November 14, from 5:00pm to 6:30pm ET.
The Best Diagnostic Exercise Award is sponsored and selected by the Latin American Comparative Pathology Group. 
The 2022 Best Diagnostic Exercise Award was presented to Dr. Anne Ching-Nga Tse and Carlton Pak-Man Yuen for their publication of "Lumpy skin disease in a cow."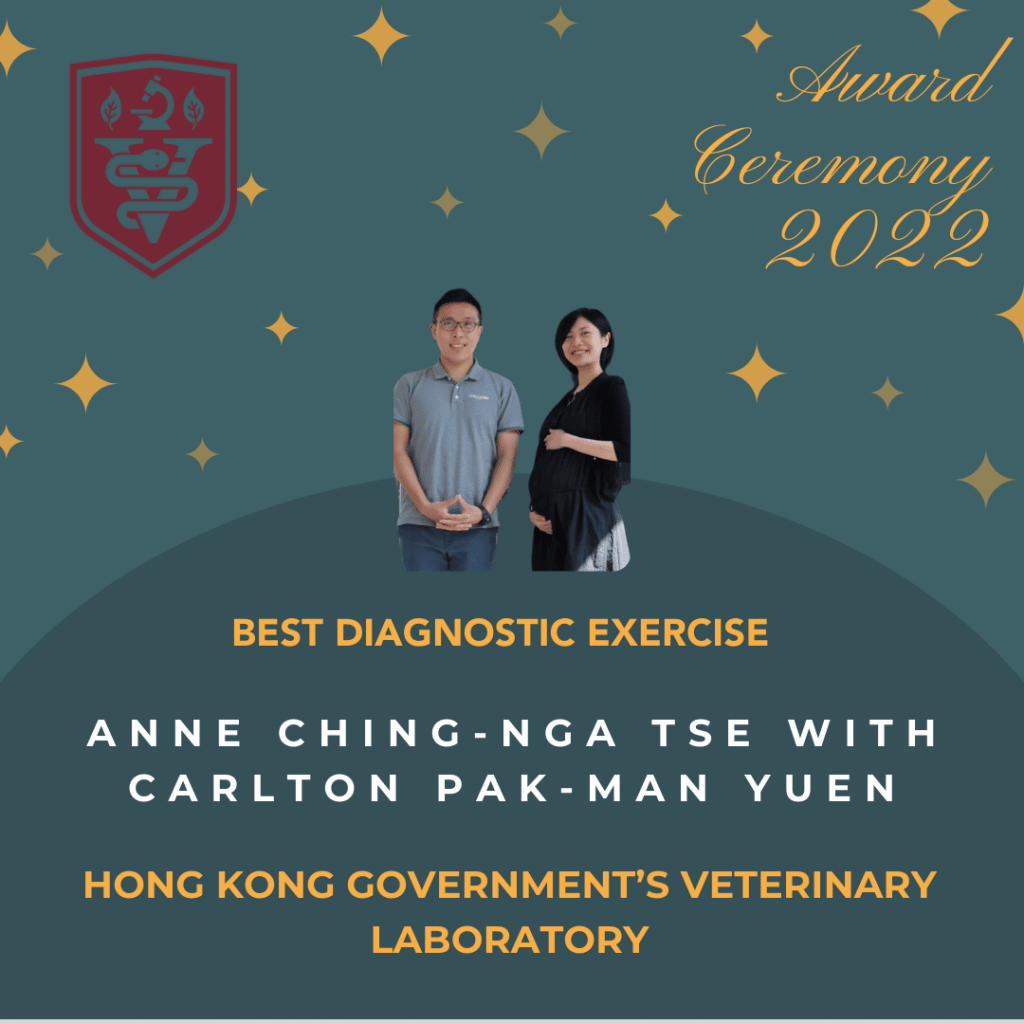 Dr. Anne Tse was born and grew up in Hong Kong. After completion of her DVM in
National Taiwan University, she returned to Hong Kong and worked in a 24/7
emergency animal hospital with heavy oncology and internal medicine caseloads.
Since 2016, Dr. Anne joined the Hong Kong Government's veterinary laboratory
where she developed an interest in anatomic pathology. After undertaking training
organized by the Government in conjunction with the Veterinary Diagnostic Laboratory under CityU University of Hong Kong, she successfully obtained the American board qualification in anatomic pathology as well as the membership qualification of the Australia and New Zealand College of Veterinary Scientists in Veterinary Pathology. Dr. Anne has gained a wide range of experiences in oncology, swine and avian diseases, molecular pathology, forensic pathology and publishes regularly in scientific journals. Aside the busy academic and working life of Dr. Anne, she likes drawing, dining out with friends, playing badminton, travelling, cycling as well as playing with her cat.
Publications:
1. Sit THC, Sun W, Tse ACN, Brackman CJ, Cheng SMS, Tang AWY, et al. Novel
zoonotic avian influenza A(H3N8) virus in chicken, Hong Kong, China. Emerg Infect
Dis. 2022.
2. Flannery J, Shih B, Haga IR, Ashby M, Corla A, King S, Tse AC, et al. A novel
strain of lumpy skin disease virus causes clinical disease in cattle in Hong Kong.
Transbound Emerg Dis. 2022;69(4):e336–43.
3. Tse AC-N, Sandy J. Multifocal giant apocrine cystadenomas in a miniature poodle.
Vet Dermatol. 2021;32(2):203–5.
4. Tse A, Brackman C. Canine influenza in a pug in Hong Kong. Vet Rec.
2019;184(13):418.