Davis-Thompson Foundation​
For the Advancement of Veterinary and Comparative Pathology​
Dr. Corrie Brown, Foundation board member and popular speaker, was awarded the American Association of Veterinary Medical Colleges Billy E. Hooper award for Distinguished Service in December 2020.
We are proud to announce that Dr. Bruce Williams, the Foundation's Treasurer and longtime tireless supporter, has been named a Distinguished Member of the American College of Veterinary Pathologists.
March 1, 2021 the Foundation welcomed Dr. Jey Koehler into the role of President. Dr. Koehler has previously served on the Faculty of Discussants and the Board of Directors, and since 2016 has been the director of the Descriptive Veterinary Pathology course.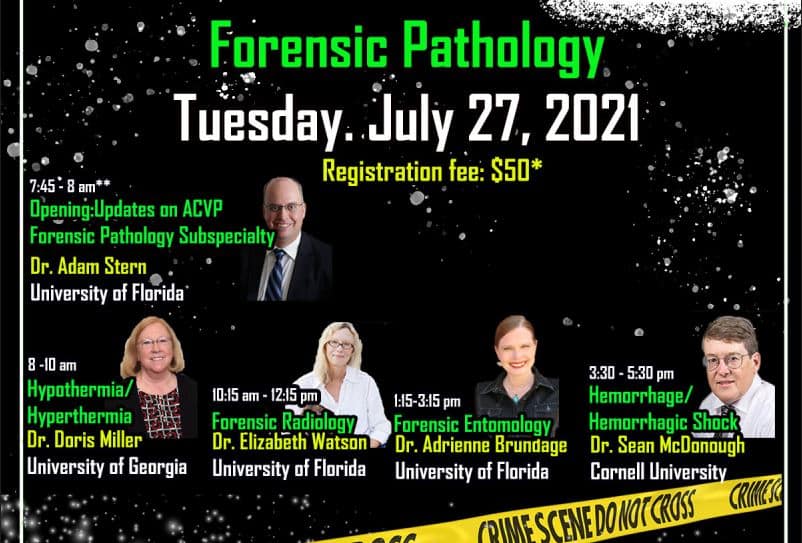 One of our most popular subjects, and something many of us feel we can never get enough of. Please join us July 27 from 7:45 am - 5:30 pm US Eastern Daylight Time for an entire day of forensic pathology from some of the foremost experts. Please be sure to view this conference LIVE, as we do not have permission to rebroadcast these lectures!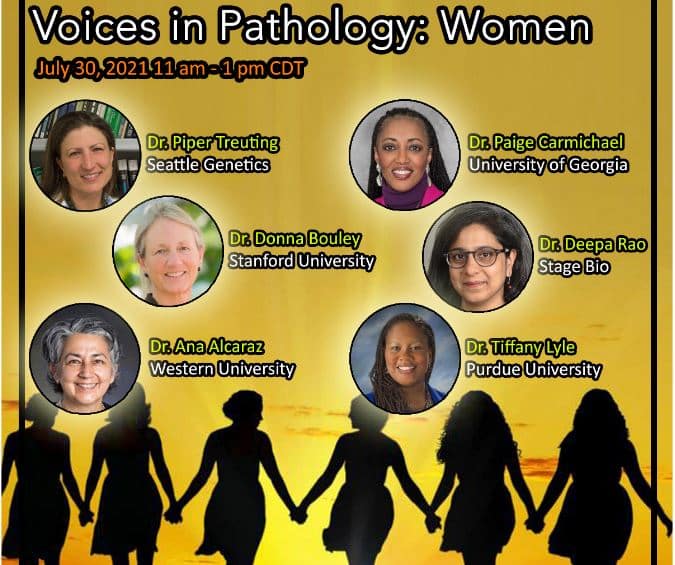 Please join us from 11:00 am - 1:00 pm US Central Daylight Time on July 30 for the latest in our ongoing popular Voices in Pathology series. July's seminar celebrates and lifts up the voices of a panel of accomplished women pathologists as they share their unique and common experiences, challenges, and joys of being a woman in this profession. Drs. Ana Alcaraz, Donna Bouley, Paige Carmichael, Tiffany Lyle, Deepa Rao, and Piper Treuting will comprise our panel. The Foundation is committed to equity in all forms, and we strongly believe in this series, which is intended to celebrate, elevate, and educate. To be a pathologist is to be human, and our unique human experiences in turn affect how we live and work. Come support and learn from these amazing women.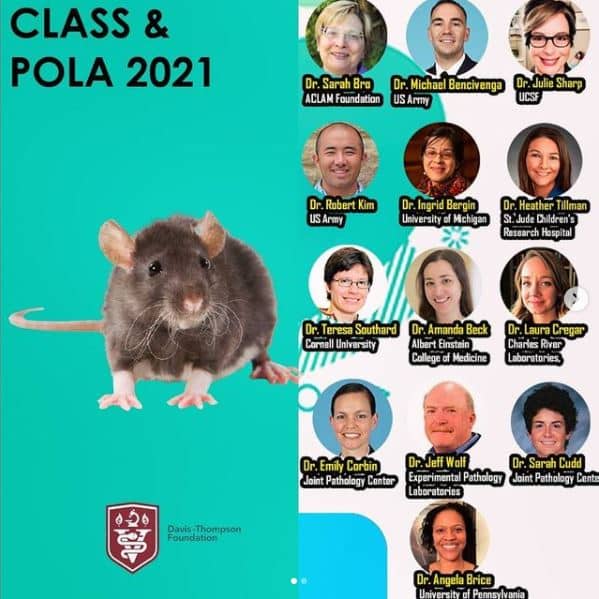 For those who work with laboratory animals, or those who might need laboratory animal knowledge for a certain "quiz" that may be coming up, this course is for you!
July 31 and August 1 the Davis-Thompson Foundation presents the CLASS course, focusing on preparing for the ACLAM exam, USDA and PHS regulations, and the NRC and Ag guides.
Right after CLASS on August 2-6 is the famous Pathology of Laboratory Animals course, chock full of pathology of mice, rats, non-human primates, rabbits, ferrets, and mini-pigs.