November 16, 2021
@
9:00 am
–
4:00 pm
US Central Daylight/Standard Time
Please join us on 16 November 2021 from 9am to 4pm US Central Standard time for a full-day seminar on what lies beyond our routine glass slides. This seminar will introduce participants to the revolution of cancer genomics and its application in veterinary medicine, as well as discuss the approaches available beyond histology including the technology of cancer genomic profiling, correlative biomarkers for immunotherapeutics, and the growing technology of image analysis and artificial intelligence. Stellar speakers are lined up for this event, and they will share content pertinent to academia, research, and diagnostics. Registration is $50. As usual, registrants will get access to the recorded seminar for 14 days in case you can't watch it in real time.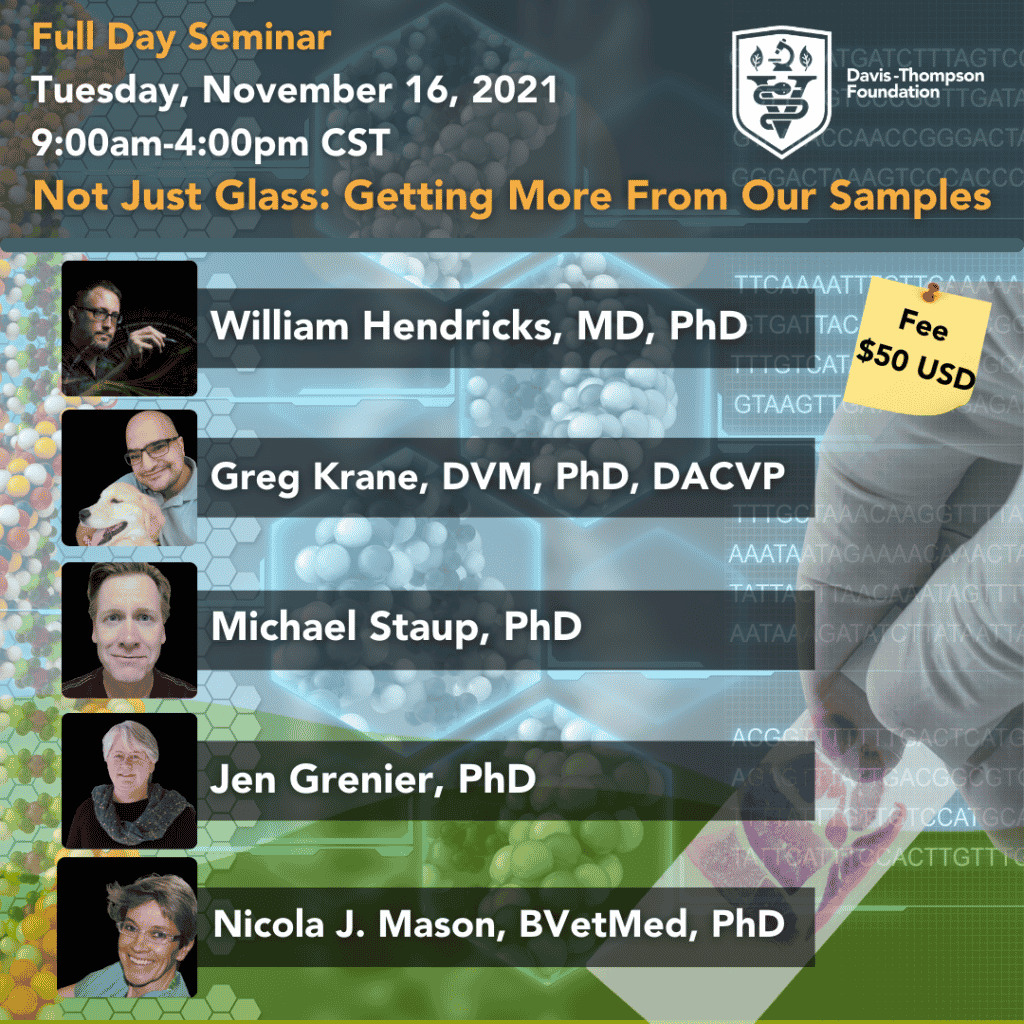 9:00-10:30am: William Hendricks, MD, PhD (Translational Genomics Research Institute) – Canine Cancer Genome Landscapes and Actionability Horizons
10:30am-12:00pm: Jen Grenier, PhD (Cornell University) – Genomic profiling technologies for FFPE samples
12:00-1:00pm: LUNCH
1:00-2:30pm: Nicola Mason, BVetMed, PhD (University of Pennsylvania) – The hunt for correlative biomarkers of immunotherapeutic response
2:30-4:00pm: Gregory Krane, DVM PhD DACVP (Charles River Laboratories) & Michael Staup, PhD (Charles River Laboratories) – Applications of Image Analysis in Veterinary Pathology & Artificial Intelligence-Assisted Quantitative Pathology
Schedule in Central Standard Time
This webinar is approved for 6 hours of RACE credits and 4 AVMA MOC credits.
Register here: https://bit.ly/3b53rAC
Learning objectives:
Understand fundamentals of image analysis and how they can be applied to veterinary pathology endpoints.
Describe cancer's complex genomic basis
Explain the current state of canine cancer genomics particularly as it relates to the clinical value of new discoveries and technologies
Interpret summary results of cancer genomic analyses