June 26
@
8:00 am
–
June 30
@
5:00 pm
It's time to register for the renowned and lively (formerly known as) "Gross Course", with novelties tailored to anatomic pathology trainees and those taking Phase 2 of the ACVP exam. This revamped gathering is now the "Current Literature and Image Interpretation course" (CLIIC), and it will have stellar instructors lined up to share a systems-based review of veterinary pathology, including current literature, relevant textbooks, gross images, cytology, and histopathology images.
This will be an in-person meeting with a systems-based review of veterinary pathology including current literature (past 5 years), relevant textbooks, as well as thousands of gross and microscopic images (histopathology and cytology). Attendees will receive hundreds of board-style multiple-choice questions, both knowledge (literature and textbook-based) and image-based. Questions are embedded in the presentations via live polling, but attendees will also receive the questions as take-home handouts. This course replaces the previously offered Gross Course and differs from it by the addition of microscopic images (histopathology and cytology) and a current literature review, to better reflect the current ACVP exam format. This course differs from the Descriptive Course in that it does not include mock histopathology exams, break-out sessions, instruction on descriptive techniques, or lectures on electron microscopy, immunohistochemistry, or in-situ hybridization.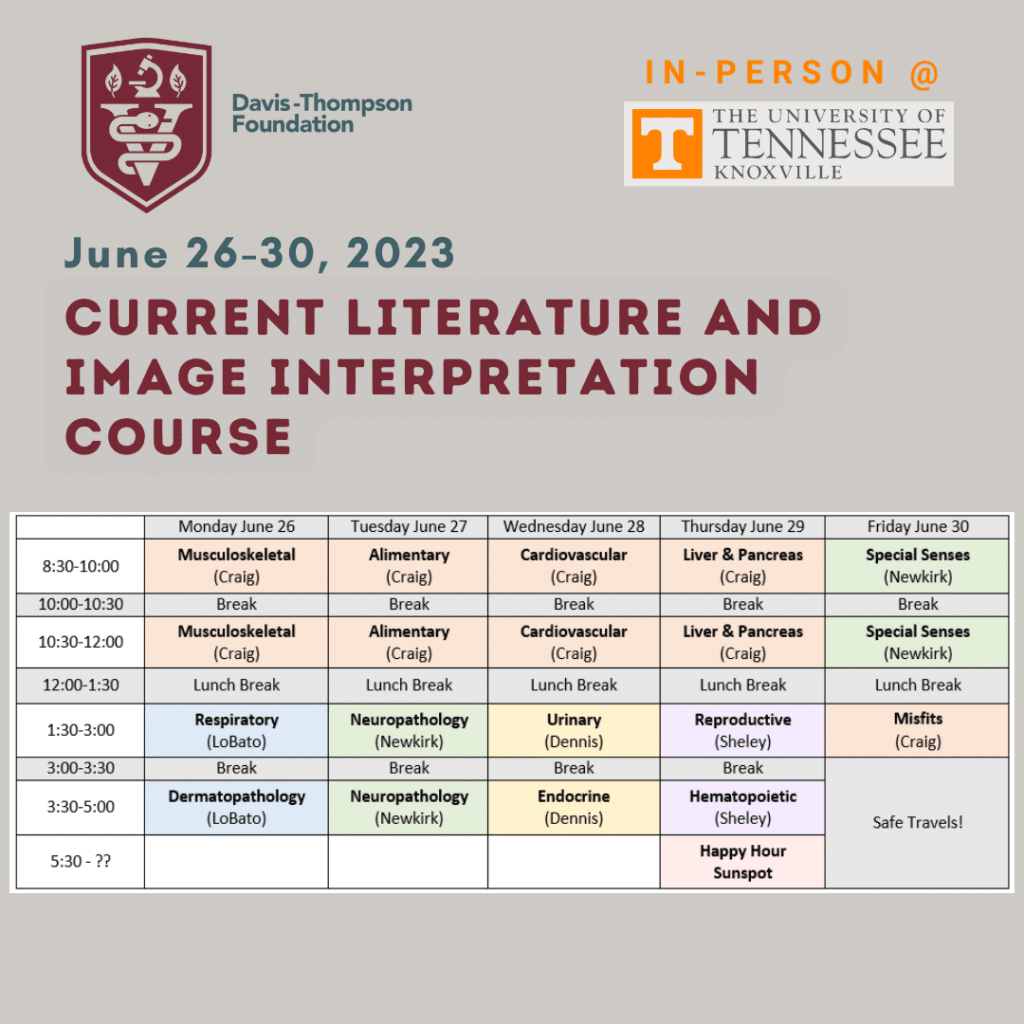 Location: University of Tennessee, Knoxville, TN (in-person only!)
Register here: https://davisthompsonfoundation.regfox.com/cliic2023
If you are a resident at a US university, please ask your residency coordinator if your institution is a member before you register as a non-member!
Please note: parking at UT is $5 per day, per car ($25 for the duration of the course). Please see Dr. Linden Craig on day 1 for passes. A free trolley is available (details below)
Check out the map of the free trolley that runs between downtown Knoxville and campus, in case it helps attendees choose the most convenient hotel.
Hotel suggestions:
The Graduate Hotel is 1 mile away
https://www.graduatehotels.com/knoxville/contact/
The Hilton Cumberland House is 1.5 miles away:
https://www.hilton.com/en/hotels/tyschup-cumberland-house-knoxville/
The Tennessean is 1.8 miles away:
https://www.thetennesseanhotel.com/