March 28
@
8:00 am
–
March 31
@
5:00 pm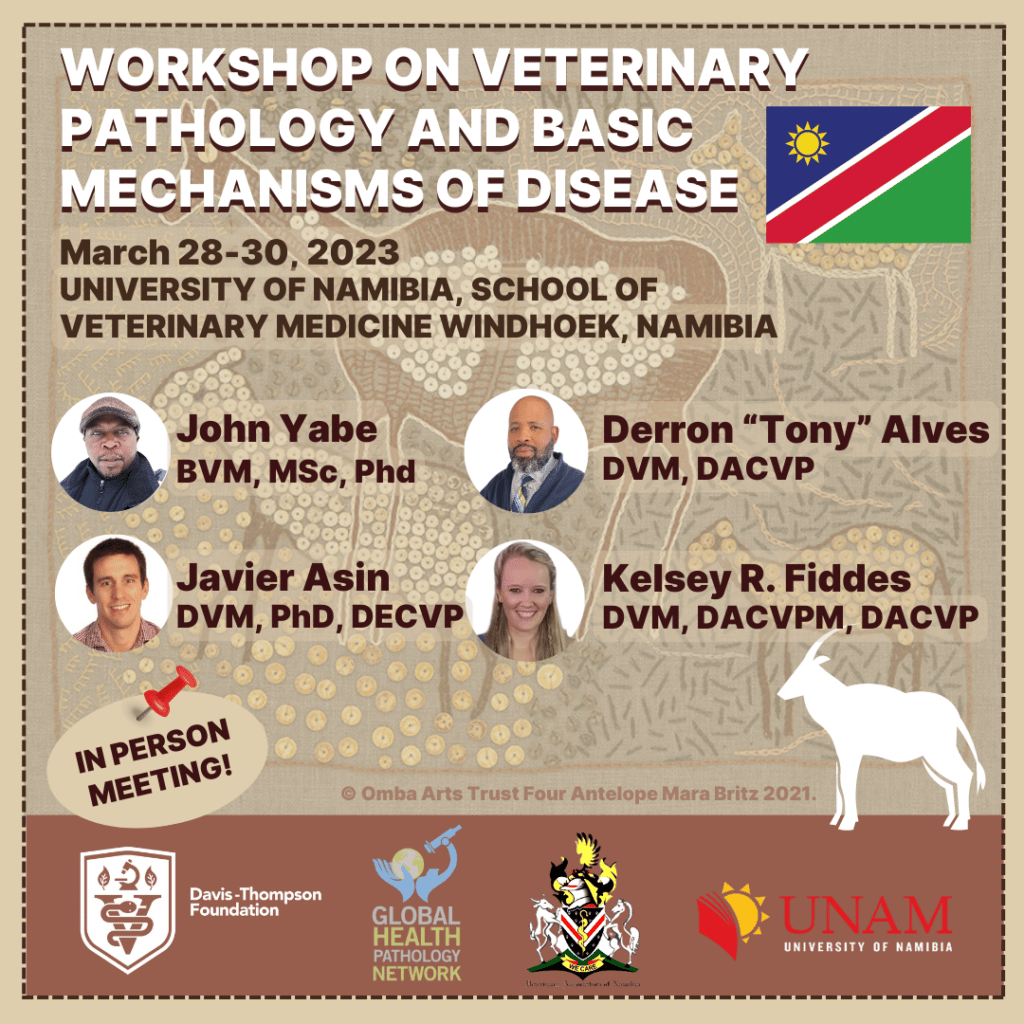 Join Drs. Alves, Fiddes, Asin, and Yabe for a workshop on basic mechanisms of disease with an emphasis on veterinary public health and transboundary diseases of significance to Namibia.
This interactive workshop will be presented in a case-based manner with group discussions for optimal learning and highlighting how these diseases might appear in animal populations and veterinary public health in general.
Participants will work through mechanisms of postmortem examinations (i.e. necropsies), doing hands-on practical exercises, to include the entire necropsy procedure as well as sampling and packaging. At the end of the workshop, participants will be able to:
Explain basic mechanisms of disease for select diseases in Namibia
Perform a necropsy on a small ruminant, with collection and packaging of tissues in an appropriate manner for use in the laboratory
Use history, clinical signs, and gross lesions observed to create a list of differential diagnoses
Location: in person only at the School of Veterinary Medicine, University of Namibia
Registration is free but required. To register please contact the Veterinary Association of Namibia (VAN) at  sercretary@van.org.na
March 28
Morning:
Registration
Opening Ceremony
Introductions
The science behind how adults learn
Case-based learning to include basic mechanisms of disease (e.g., lesion description, morphologic diagnoses – disturbances of circulation, cell injury)
Afternoon:
Groups will be separated to do postmortem examinations and packaging
March 29
Morning:
Lecture provided by a clinical/public health veterinarian (topic of choice)
Case-based learning to include mechanisms of (e.g. role of cell types, exudates, morphologic diagnoses – scenarios, exercises, experiences)
Afternoon:
Groups will be separated to do postmortem examinations and packaging
March 30
Morning:
Case-based learning (e.g., disease pathogenesis, selected diseases (group work, using prepared scenarios)
Afternoon:
Discussion on diagnostics and management of all diseases covered
Distribution of certificates.
Closing Ceremony.
Find more information on the Global Health Pathology Network initiative here: https://journals.sagepub.com/doi/full/10.1177/0300985817717771
The art in the background of the flyer is a rock beaded picture created by a Namibian artist, Mara Britz with Omba Arts Trust, a non-profit organization that supports more than 400 artisans and artists from nine regions in Namibia, 95% of whom are women and 60% San.
Take a moment to check out their amazing work, learn more about the organization and please consider making a purchase or a donation!