July 29
@
9:00 am
–
4:30 pm
EDT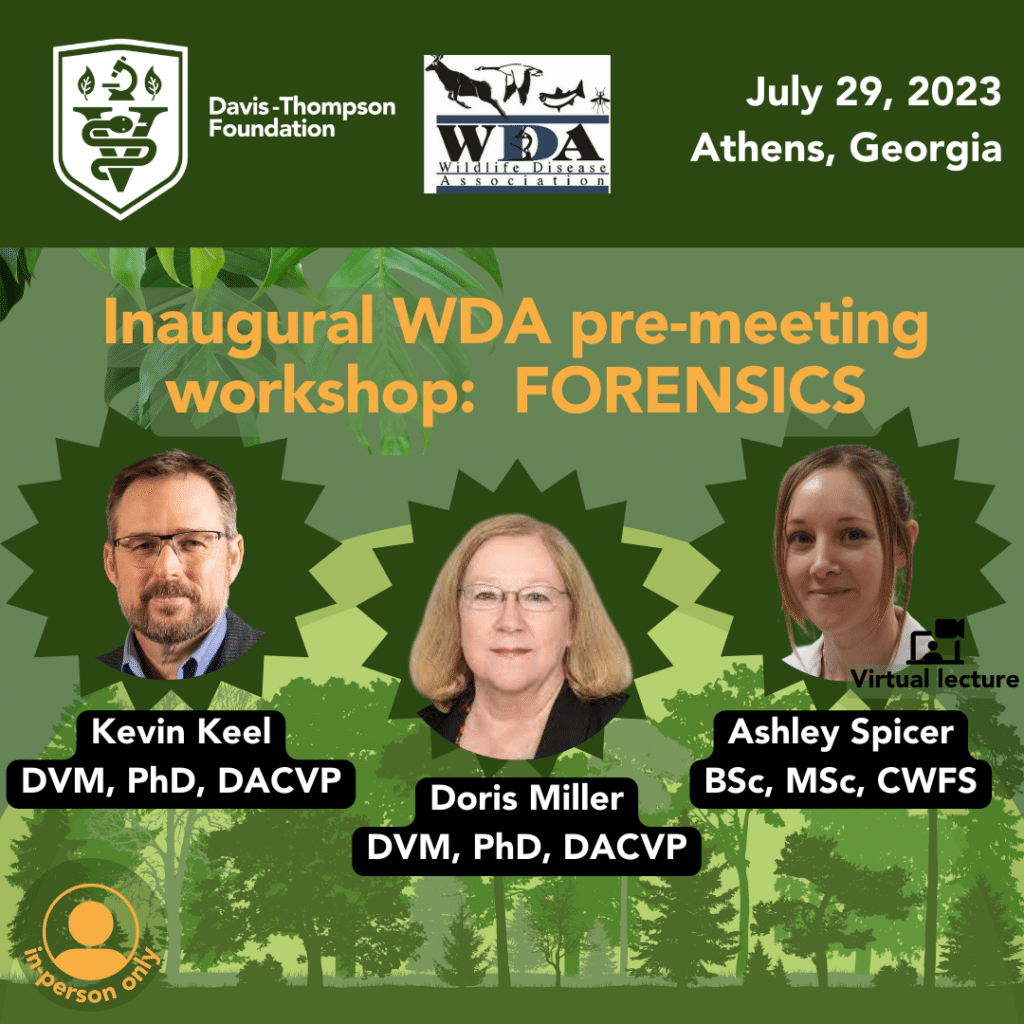 The Wildlife Disease Association and the Davis-Thompson Foundation are excited to offer a forensic science pre-meeting workshop prior to the annual WDA meeting in Athens, Georgia. This workshop will offer training in a number of critical aspects of forensic investigation, particularly those relevant to wildlife species. The content will be delivered through a series of seminar presentations as well as discussions of actual forensic cases involving wildlife. Topics include chain of custody and security of samples, reporting, timing of death, species identification, documenting method of death, and expert witness testimony. This will be an in-person meeting only!
Registrations: https://davisthompsonfoundation.regfox.com/wdaworkshop
Tentative Syllabus (subject to change) – Times in Eastern Daylight Time
9:00 to 9:15 Introduction – Kevin Keel
9:15 to 10:00 Chain of custody and security of samples – Doris Miller
Carcasses
Frozen samples
Leg bands, tags, etc.
Disposition of eagle materials
Retention of fixed tissues
10:00 to 10:30 Reports – Kevin Keel
Written records
Photo documentation
Digitized microscopy slides
FOIA requests
10:30 to 10:45 Break
10:45 to 12:00 Forensic specific diagnostic methods – Ashley Spicer
Timing of death
Species identification
Hair analysis
Molecular techniques
Noon to 1:30 Lunch
1:30 to 2:15 Documenting method of take – Kevin Keel / Speaker TBD
Firearms
Bullet trauma
Arrows and similar projectiles
Blunt trauma and electrocution
Poisoning
Drowning and entanglement
2:15 to 3:00 Expert Witness – Doris Miller
Representation in the press?
Going to court?
What is the role of the forensic scientist?
3:00 to 3:15 Break
2:45 to 4:30 Brief case presentations and discussion TBD
$50 – $125
$50 for residents/students, $125 for professionals