November 26, 2021
@
11:00 am
–
1:00 pm
CST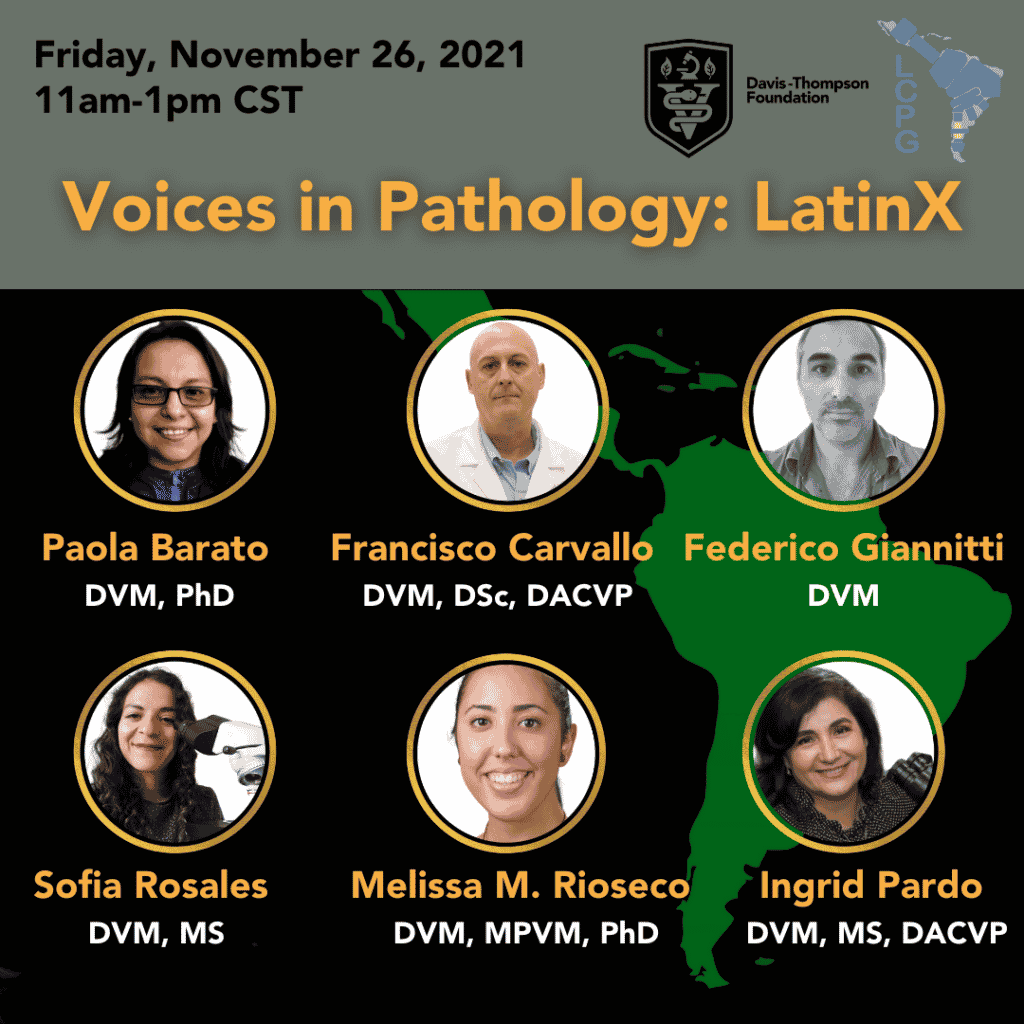 Please join us on Friday, 26 November 2021, from 11 am to 1 pm Central Standart Time for this lively gathering about diversity and inclusion within the veterinary community, with a special focus on LatinXs and their Veterinary Pathology careers. Stellar panelists from all over the world representing our Latin American voices will share important discussions and milestones about LatinXs' trajectory in society, veterinary fields, and the many subareas of veterinary pathology. Prestigious LatinXs playing roles in academia, industry, and research will share their perspectives and stimulate discussion with participants. Come be part of this dynamic! Registration is free but required.
Register here: https://bit.ly/2Zpc0U9
Únase a nosotros el viernes 26 de noviembre de 2021, de 11:00-13:00h (US-CST) para esta reunión sobre la diversidad y la inclusión dentro de la comunidad veterinaria, con un enfoque especial en los latinos y sus carreras en patología veterinaria. Panelistas estupendos en todo el mundo que representan nuestras voces latinoamericanas compartirán importantes discusiones e hitos sobre la trayectoria de los LatinX en la sociedad, los campos veterinarios y las muchas subáreas de la patología veterinaria. LatinX prestigiosos que desempeñan papeles en la academia, la industria y la investigación compartirán sus perspectivas y estimularán la discusión con los participantes. ¡Ven y sé parte de esta dinámica! El registro es gratuito pero obligatorio.
Registrar aquí: https://bit.ly/2Zpc0U9
Panelistas:
Dra. Paola Barato (Corpavet y Molecularvet S.A.S. – Colombia)
Dr. Francisco Carvallo (Virginia-Maryland College of Veterinary Medicine – USA)
Dr. Federico Giannitti (Instituto Nacional de Investigación Agropecuaria (INIA) – Uruguay)
Dra. Sofía Rosales Martínez (Facultad de Estudios Superiores Cuautitlán – Mexico)
Dra. Melissa Macías Rioseco (CAHFS-UC Davis – USA)
Dra. Ingrid Pardo (Biogen Cambridge – USA)