October 24
@
8:00 am
–
October 25
@
5:00 pm
Cambodia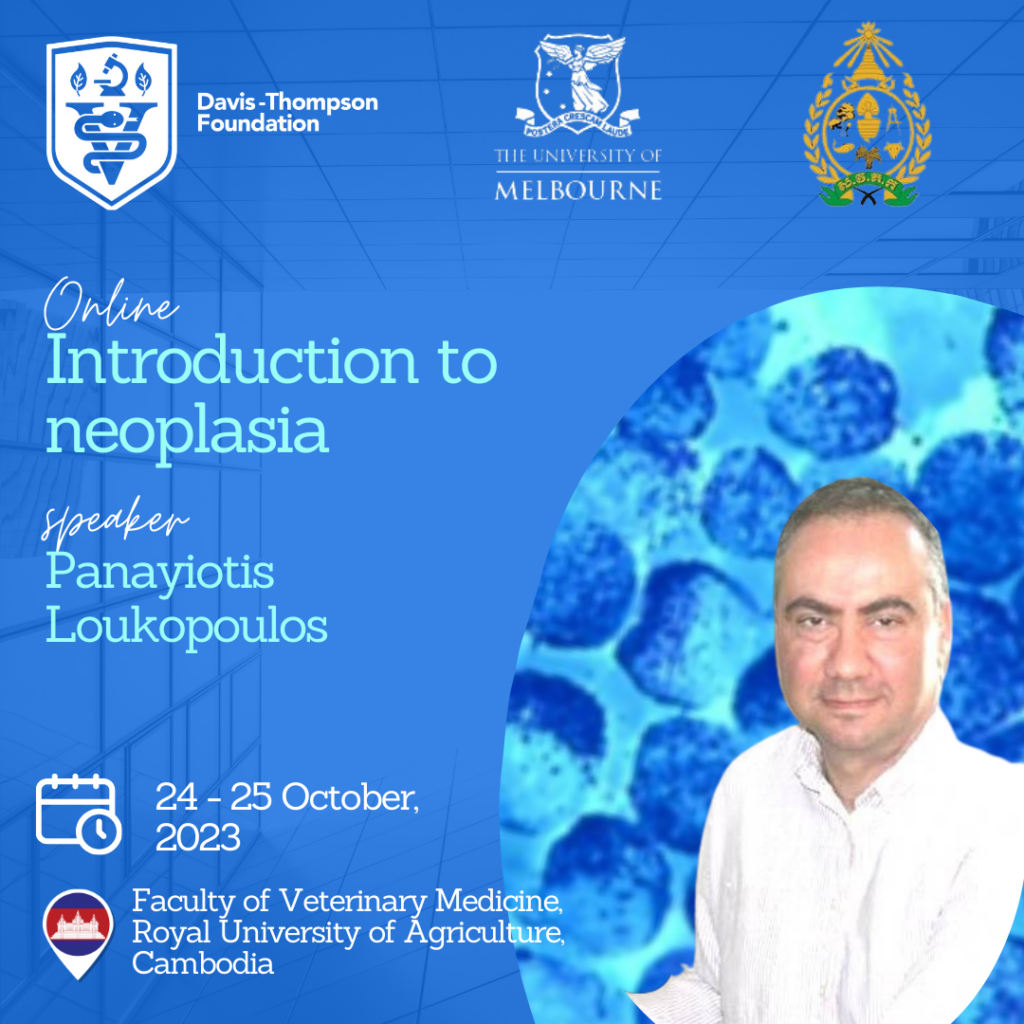 Presenter: Panayiotis (Panos) Loukopoulos, Melbourne Veterinary School, Faculty of Science, University of Melbourne
Title: Introduction to neoplasia.
Where: Faculty of Veterinary Medicine, Royal University of Agriculture, Cambodia. (via zoom)
When: Tuesday 24 and Wednesday 25 October 2023
Tuesday 24 October
10:00-12:00, Cambodian time
Wednesday 25 October
08:00-10:00 and 13:00-15:00 Cambodian time
Duration: 6 hours total.
The seminar will be delivered via zoom in English with live interpretation into Khmer.
The seminar will be recorded for internal use.
Host: Dr KANAN DIM, Lecturer in Veterinary Pathology <dkanan_vm@rua.edu.kh>
In this talk: In this introductory seminar on neoplasia, we will discuss the concept of benign and malignant forms of neoplasia and examine the gross, histologic and cytologic features associated with each form; we will discuss the terminology associated with neoplasia and apply naming conventions to the different types of neoplasia; explore the effects of neoplasia on the body; examine the causes of neoplasia, and how neoplasms develop and metastasize.
About the presenter: Dr Panayiotis Loukopoulos (Panos) is a Senior Lecturer in Veterinary Pathology at the University of Melbourne and a diagnostic pathologist. He has previously worked as a Senior Lecturer in Veterinary Pathology at Charles Sturt University, Australia, and prior to that worked as a diagnostic pathologist at the renowned California Animal Health and Food Safety Laboratory of the University of California (UC) Davis; an assistant professor at Aristotle University, Greece; an invited postdoctoral scientist at the National Cancer Center in Tokyo, Japan, working on the genomics of human pancreatic and liver cancer; and completed postgraduate studies and a Ph.D. in Comparative Oncology at the University of Queensland, Australia. Panos has published >62 peer-reviewed papers and has presented >90 conference papers, is an Associate Editor of the Australian Veterinary Journal and a member of the Editorial Board of the Journal of Veterinary Diagnostic Investigation (JVDI) and of Medicine International. His research mainly focuses on diagnostic pathology and on the study of neoplasia.