Necropsy Course November 2023– The Davis-Thompson Foundation
November 11
@
8:00 am
–
November 12
@
4:00 pm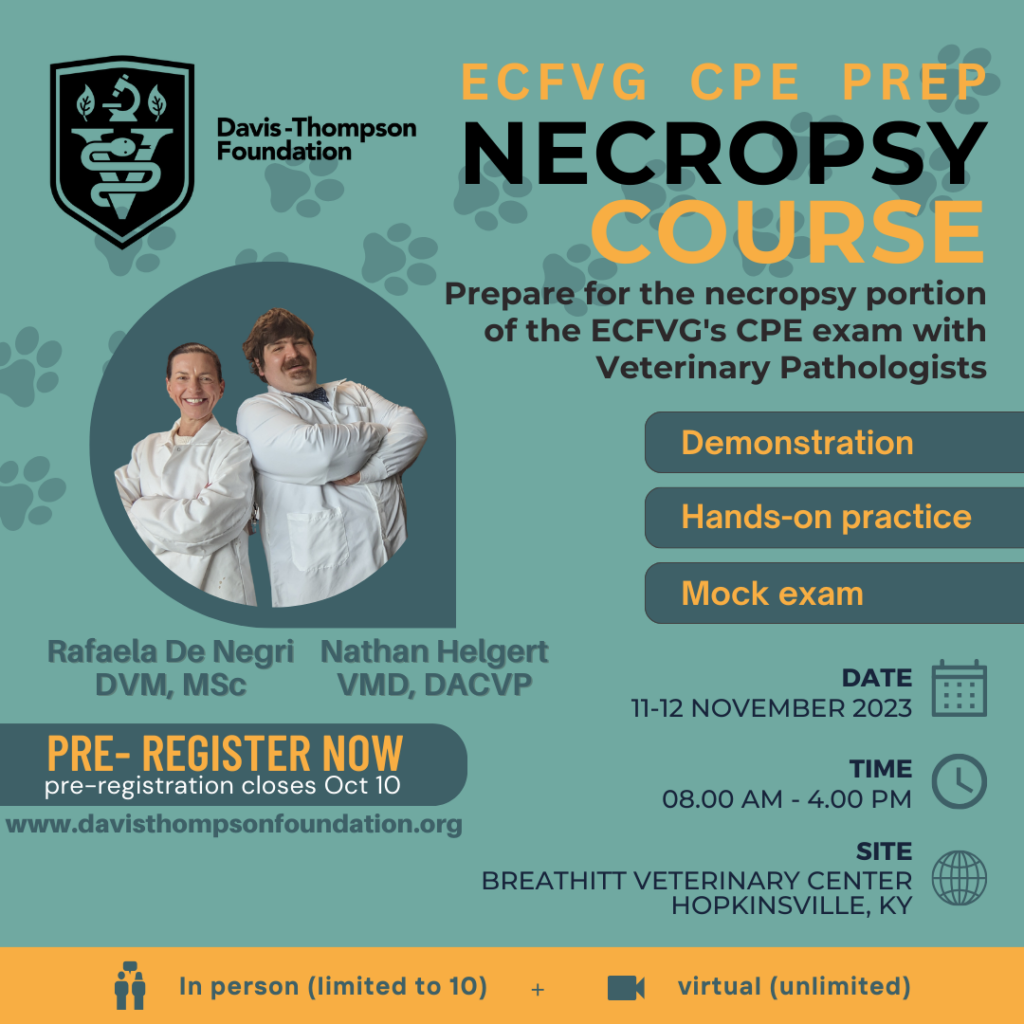 Join us for a two-day course designed to help candidates that are preparing to take the Clinical Proficiency Examination (CPE) by the American Veterinary Medical Association (AVMA) Educational Commission for Foreign Veterinary Graduates (ECFVG) and the Canadian Veterinary Medical Association (CVMA) National Examining Board (NEB).
Additionally, veterinarians and veterinary technicians looking to improve their necropsy techniques will find benefit in this training.
This time around, we will have a pre-registration period, until Oct 10. Depending on interest or number of registrants for the in-person offer, on Oct 10, we will decide to proceed with the course or cancel and reimburse registrants. Tell your friends!
Spend two days with Dr. De Negri and Dr. Helgert, learning necropsy techniques through a thorough demonstration, followed by hands-on practice and a mock exam.
(Although we believe that the in-person instruction, hands-on practice, and mock exam will provide superior preparation for the CPE exam, we are providing a remote option, including an interactive necropsy technique demonstration for those who cannot attend in person.)
Schedule (times in CDT):
Saturday November 11:
8:00 am- 9:30 am- Introduction. (In-person and virtual)
10:00 am- 12:00 pm- Step-by-step necropsy demonstration following CPE exam guidelines (small animal). (In-person and virtual)
(In-person only)
12:00 pm- 1:00 pm- Lunch break (box lunch provided).
1:00 pm- 2:00 pm – "Ninja class" learn how to properly handle the knife and cut the various tissues.
2:00-4:00 pm – Hands-on necropsy practice, supervised (attendees will practice necropsy on small animal cadavers (e.g. cat, dog).
Sunday, November 12:
8:00 am- 12:00 am- Mock exam. Attendees will be timed and graded while performing a necropsy.
12:00 pm- 1:00 pm- Lunch break (box lunch provided).
1:00 pm- 4:00 pm- Exam review and Q&A session.
Fees and registration:
In person: US$600 (limited spots!)
*In person registrants must provide proof of rabies.
**PPE and necropsy instrumentation will be provided.
Virtual live necropsy demonstrations (Saturday, November 11 from 8:00 am to 12:00 pm CDT): US$200
***All registrants will receive access to the necropsy demonstration recording for 1 month.
To access the live virtual event:
Log in to the Davis/Thompson website. If you don't have an account, create one after clicking the "Log In" button in the upper right.
Go to the events page, and select "Necropsy Course November 2023- The Davis-Thompson Foundation".
Scroll down the page – if you see a countdown timer, you're all set!
At the day of the event, approximately 10 minutes before the event, the countdown timer will turn into a button labeled "Start". That will take you to the conference!
Location:
Breathitt Veterinary Center
101 MSU Dr. Hopkinsville, KY 42240
Stay:
We have secured a special rate for our attendees with Holiday Inn & Suites Hopkinsville – Convention Ctr at U$109. Once you register you will receive the passcode to get this rate (until a week prior to the event). The hotel is a 5 min walk (0.2 mi/320 m) to Breathitt Veterinary Center, a shuttle is available at the hotel upon request.
Holiday Inn & Suites Hopkinsville – Convention Ctr
100 Tilley Wy, Hopkinsville, KY 42240
Phone: (270) 887-8600
Airport:
BNA, Nashville airport is located 71 mi from Breathitt Veterinary Center.
Transportation from and to the airport
Silver Swan is a third-party service available upon reservation for an additional fee. Please contact: (270) 305-9775
Questions please email rdenegri@murraystate.edu or call (270) 886-3959 (ask for Dr. De Negri)
*All cadavers utilized in this program were obtained deceased from local shelters and veterinary clients.