September 6
@
8:00 am
–
September 8
@
5:30 pm
Sarajevo – Bosnia and Herzegovina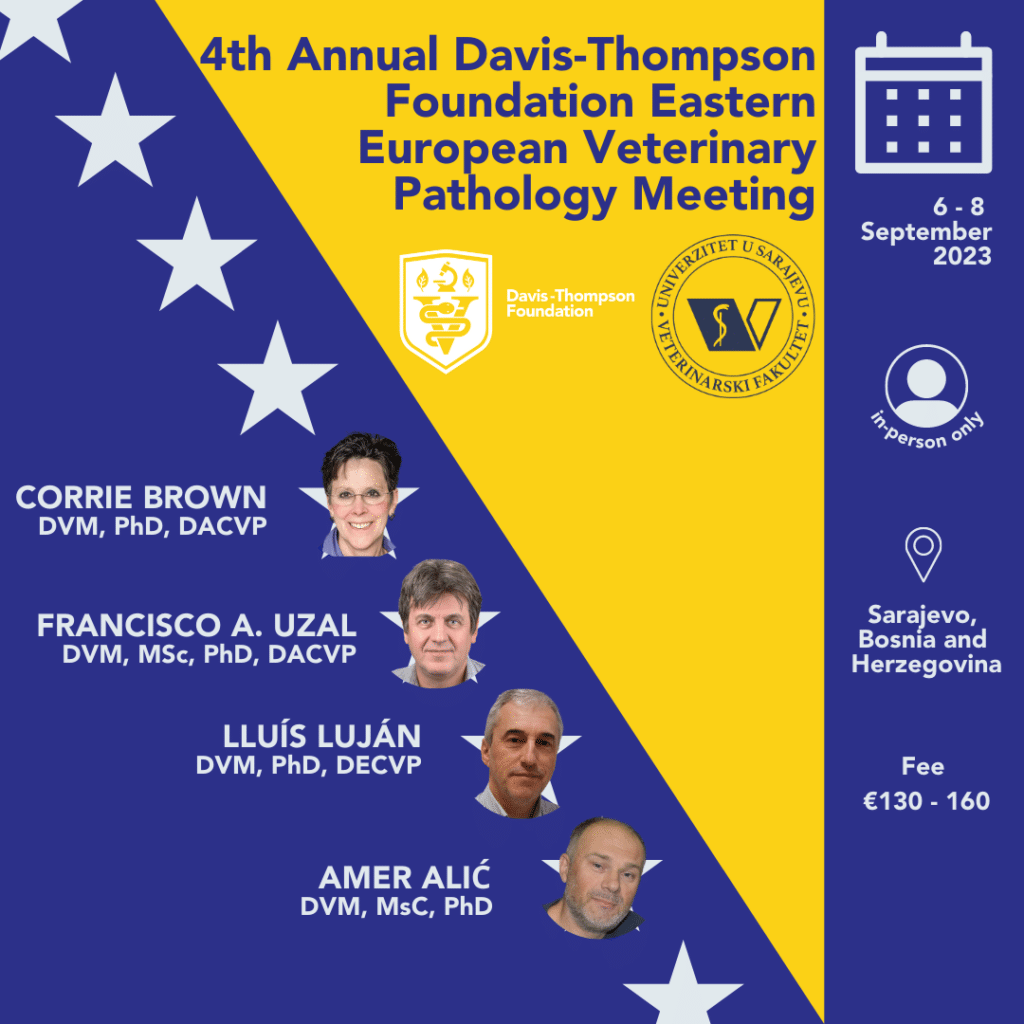 Visit Bosnia and Herzegovina and join us at the University of Sarajevo for the 4th Annual Davis-Thompson Foundation Eastern European Veterinary Pathology Meeting presented by outstanding speakers Dr. Corrie Brown (University of Georgia, USA), Dr. Paco Uzal (University of California, Davis, USA), Dr. Lluís Luján (University of Zaragoza, Spain) and Dr. Amer Alić (University of Sarajevo, Bosnia and Herzegovina).
The meeting caters to veterinary pathologists and trainees, poultry and farm animal practitioners, veterinary and zootechnical students, or anyone with an interest in avian and small ruminant pathology. Participate in a practical poultry dissection to put the theory into practice under the guidance of these experts.
The registration includes lunch and coffee breaks, a formal dinner, a tour of Sarajevo, and a trip to the city of Mostar which boasts the magnificent Old Bridge, a UNESCO World Heritage Site!
For participants arriving a day early, a welcome reception will be held at the Veterinary Faculty, University of Sarajevo on Tuesday, 5th September 2023 at 6 pm.
The formal dinner will take place on the last day of the meeting – Friday, 8th September 2023 at 6 pm.
Registration: https://bit.ly/DTFEastEuro
(Additional information regarding the meeting and accommodation via the registration link above)
For any further inquiries please contact Tamara Dolensek (tdolensek20@rvc.ac.uk).
Event schedule table
Wednesday, 6 September
Thursday, 7 September
Friday, 8 September
8h – 8:45
Registration & sitting down
8h – 9h
Francisco A. Uzal – Outbreaks of Newcastle disease
9h – 9:45
Lluís Luján – Digestive system of small ruminants, part 1
8:45 – 9:00
Welcome speech
9h – 9:15
Questions + comfort break
9:45 -10h
Questions + comfort break
9h -9:45
Corrie Brown – Respiratory pathology of poultry – the importance of friends!
9:15 – 10:15
Francisco A. Uzal – Gross-histo correlations, part 1
10h – 10:45
Lluís Luján – Digestive system of small ruminants, part 2
9:45 – 10h
Questions + comfort break
10:15 – 10:45
Coffee break
10:45 – 11:15
Coffee break
10h – 10:45
Corrie Brown – Transboundary animal diseases of poultry – find the first case!
10:45 – 11:45
Francisco A. Uzal – Gross-histo correlations, part 2
11:15 – 12h
Lluís Luján – Respiratory system of small ruminants
10:45-11:15
Coffee break
11:45 – 12h
Questions + comfort break
12:00 – 12:15
Questions + comfort break
11:15-12h
Corrie Brown – GI diseases of poultry – out the poop chute!
12h – 13:30
Lunch break
12:15 – 13h
Lluís Luján – Nervous and circulatory system of small ruminants
12h – 12:15
Questions + comfort break
13:30 – 20h
Trip to Mostar
13h – 14:30
Lunch break
12:15 – 13h
Corrie Brown – Miscellaneous diseases of poultry – a poultry potpourri
14:30 – 15:15
Lluís Luján – Urinary and reproductive system of small ruminants
13h -14:30
Lunch break
15:15 – 15:30
Questions + comfort break
14:30 – 15:15
Amer Alić
– Pigeon Pathology
15:30 – 16:15
Lluís Luján – Skin, skeletal and hematopoietic system of small ruminants
15:15 – 15:30
Questions + comfort break
16:15 – 16:30
Farewell speech
15:30 – 17h
Corrie Brown & Francisco A. Uzal – Poultry necropsy practical (1st group)
18h-20h
Formal Dinner
17h – 18:30
Corrie Brown & Francisco A. Uzal – Poultry necropsy practical (2nd group)
18:30 – 20h
Tour of Sarajevo