Chicago Marriott Downtown Magnificent Mile
October 28
@
8:00 am
–
5:00 pm
Chicago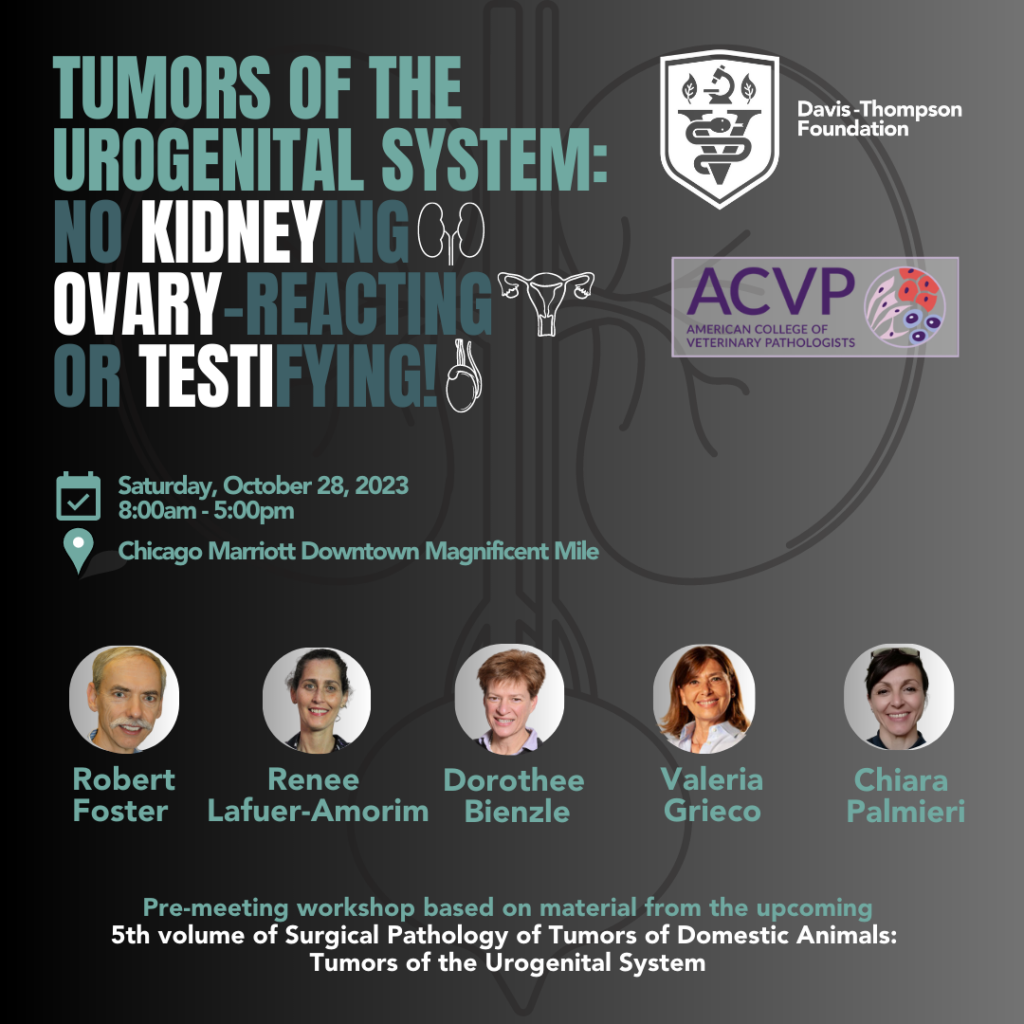 Save the date for our pre-meeting workshop in conjunction with the American College of Veterinary Pathologists (ACVP) 2023 Annual Meeting.
Tumors of the Urogenital System create considerable difficulty for diagnostic pathologists because many are seldom encountered. Our speakers will present a workshop based on material from the upcoming fifth volume of the series, Surgical Pathology of Tumors of Domestic Animals: Tumors of the Urogenital System.
This meeting is suitable for veterinary students, interns, residents, graduate students, and anatomic pathologists. The workshop will be organized into presentations and case-based interactive discussions with digital microscopy files available to registrants prior to the meeting. The presentations will focus on the approach to, and the histology and cytology of, key neoplasms of the urinary system, particularly the kidney and bladder, and the reproductive tissues, to include the gonads, accessory genital glands (prostate), and tubular components including the urethra, uterus and external genitalia of both males and females.
6.0 RACE credits.
Registration information page: https://www.acvp.org/page/AnnualMeetingRegistration
Registration: https://www.prereg.net/2023/acvp/
Speakers
Dr. Robert Foster, BVSc, PhD, MANZCVS, DACVP
Dr. Chiara Palmieri, DVM, PhD
Dr. Valeria Grieco, DVM, PhD
Dr. Renee Laufer-Amorim, DVM, PhD, ABPV
Dr. Dorothee Bienzle, DVM, PhD, DACVP, CAHSF