Surgical Pathology of Tumors of Domestic Animals. Volume 4: Tumors of Bone, Cartilage and Other Hard Tissues.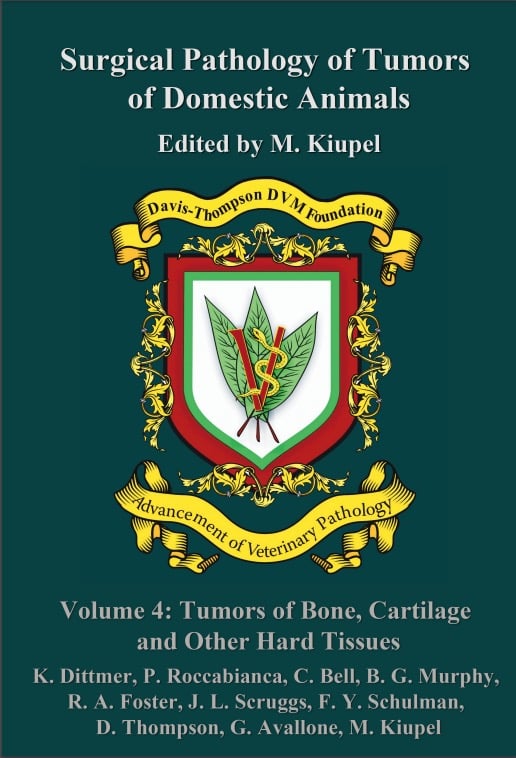 The 4th volume of "Surgical Pathology of Tumors of Domestic Animals" covers tumors of bone, cartilage and other hard tissues, specifically odontogenic tumors and tumors of the mandible. Included are osseous, cartilaginous, and notochordal tumors, as well as non-osteogenic, non-chondrogenic tumors of bone and tumor-like lesions of bone and extraskeletal chondro-osseous tumors. While odontogenic tumors have historically been included with tumors of the alimentary tract, these tumors were also included in this 4th volume together with other tumors and tumor-like lesions of the mandible to provide surgical pathologists with a better comparative view of similar entities.
Bone is a highly dynamic tissue, and any type of mass effect will result in alteration of the normal architecture. Correctly interpreting such reparative processes and to differentiate them from the primary disease can be challenging. The ability to interpret microscopic findings in conjunction with the various types of diagnostic imaging is often essential to reach an accurate diagnosis. This volume, therefore, integrates characteristic radiographic findings into surgical pathology of tumors of bone, cartilage and other hard tissues. As in previous volumes, dedicated chapters will review the structure and development of the tissues covered in this volume, immunohistochemistry and grading and reporting of specific tumor entities. Special chapters have been committed to the trimming and decalcification of bone and teeth as both steps are essential in providing high quality sections for microscopic interpretation.
This fascicle will cost $40 USD and is expected to become available late Fall 2021. Please check our website, Social Media and direct email for updates on release date.
It will be available for purchase on our bookstore: https://davisthompsonfoundation.org/bookstore/