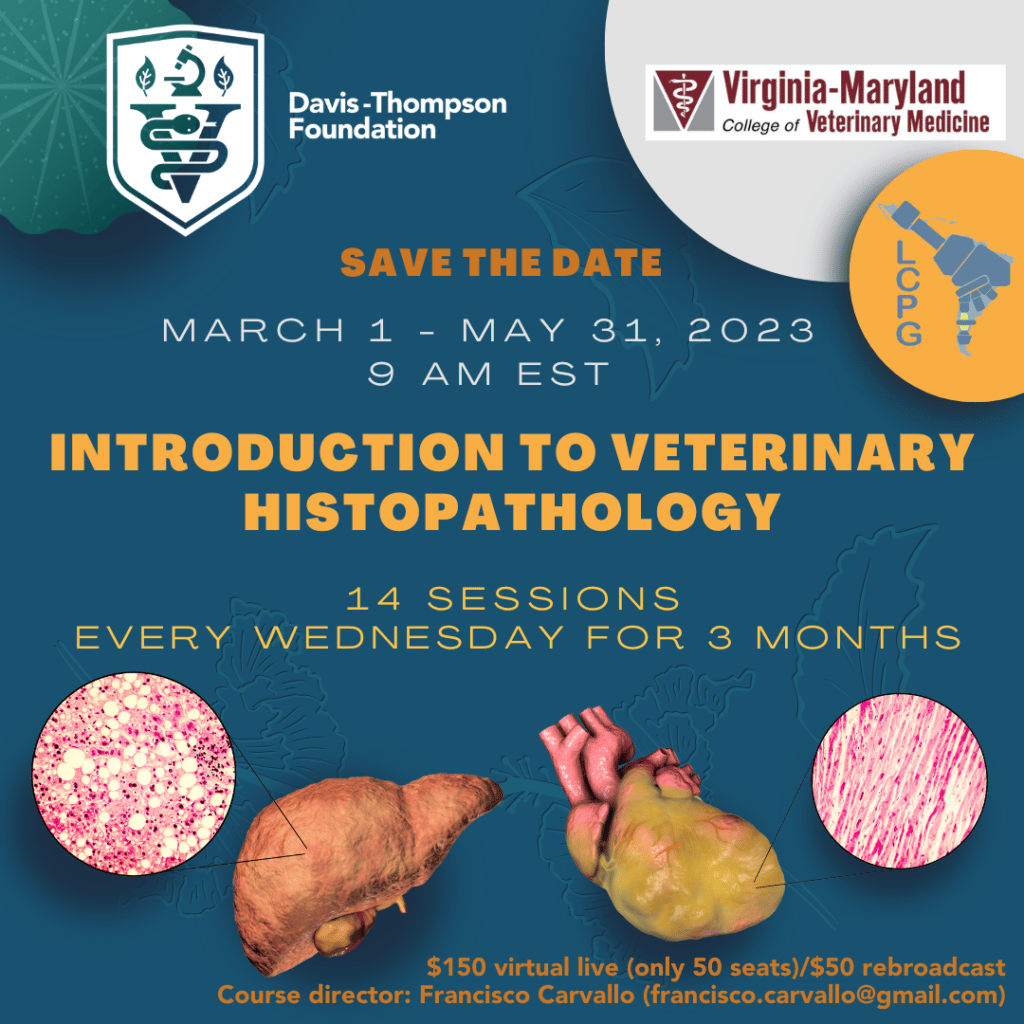 Faculty (alphabetical order):
Francisco Carvallo DVM, DSc, DACVP
Thomas Cecere DVM, PhD, DACVP.
Kevin Lahmers DVM, PhD, DACVP.
Tanya LeRoith DVM, PhD, DACVP.
Vanessa Oakes DVM, PhD, DACVP.
Teresa Southard DVM, PhD, DACVP.
Course Objectives:
Upon completion of this course, students will be able to:
Identify and describe cellular and tissue changes in response to injury
Identify and describe infectious organisms in tissue sections using conventional and special stains
Identify and describe epithelial, mesenchymal, and round cell neoplasms
Identify and describe microscopic lesions in multiple tissues in a wide variety of species
Write and interpret histologic descriptions
The course will be offered online only via zoom or similar in English. Students will have access to digitalized slides for each session, and are expected to analyze the slides before the session (synchronous). At least two faculty members will be connected for each session and will lead the discussion. Topics of discussion will include identification of the organ, disease process, and infectious agents (if present), as well as crafting a morphologic diagnosis for each of the analyzed slides. Students will be asked to volunteer to present cases to the class and contribute to case discussions.
Pre-requisites:
Veterinarians/veterinary Surgeons (certificate/copy of diploma required).
Cost:
Access to live sessions, assessment and certificate: $150.00 (FULL)
Access to rebroadcast version: $50.00
REGISTER HERE
PLEASE NOTE: THE LIMIT FOR LIVE PARTICIPATION HAS BEEN REACHED. YOU MAY REGISTER FOR THE REBROADCAST VERSION UP UNTIL MARCH 1st, 2023.
Course Schedule:
The following lectures and laboratory classes will be included in the course:
| | | |
| --- | --- | --- |
| Lecture/Lab Number | Title of Lecture or Laboratory class | Date Time: 9 am EST. |
| Session #1 | Histologic description | March 1, 2023. |
| Session #2 | Cell death | March 8, 2023. |
| Session #3 | Intracellular and Extracellular Deposits, Pigment | March 15, 2023. |
| Session #4 | Disturbances of Growth | March 22, 2023. |
| Session #5 | Neoplasia | March 29, 2023. |
| Session #6 | Inflammation and Repair | April 5, 2023. |
| Session #7 | Midterm exam | April 12, 2023. |
| Session #8 | Disturbances of Circulation | April 19, 2023. |
| Session #9 | Diseases Due to Viruses | April 26, 2023. |
| Session #10 | Diseases Due to Bacteria | May 3, 2023. |
| Session #11 | Diseases Due to Fungi | May 10, 2023. |
| Session #12 | Diseases Due to Parasites (helminths) | May 17, 2023. |
| Session #13 | Diseases Due to Parasites (protozoa) | May 24, 2023. |
| Session #14 | Final exam | May 31, 2023. |
The course schedule will be also available on the calendar in Canvas, which will link to individual pages. Content may also be viewed under the modules on the home page.
Assessment:
All assignments will receive a numeric grade. The final grade will be converted to a Pass or Fail with a passing grade being an overall course grade of 64% or better.
The following assessments will be included in the course:
| | | | |
| --- | --- | --- | --- |
| Description | Format | Individual worth | % overall course grade |
| Midterm | Essay | 100 | 40 |
| Final | Essay | 100 | 60 |
The midterm exam will be based on the four cases that are provided based on previously analyzed themes. Students will be expected to write up each of the cases and include a description, morphologic diagnosis, and comments section. The final exam will follow the same format and will include four histologic cases. Discussions about the slides on the midterm and final exams among individuals enrolled in the course are prohibited.
Course Canvas Site and Notes:
Electronic versions of course materials (notes) will be posted on the course Canvas site a week before the case discussion. Examples of case write-ups will be posted within 48 hours of the in-class discussion.
Reference Texts:
Zachary JF (2022) Pathologic Basis of Veterinary Disease, 7th Edition, Elsevier
Maxie MG (2016) Jubb, Kennedy, and Palmer's Pathology of Domestic Animals, 6th Edition, Elsevier
Professionalism, Academic Misconduct, Honor Code
All students will be expected to behave in a professional manner, consistent with the Virginia Tech Principles of Community and the guidelines of the Davis Thompson foundation. Violations will be reported.
Disclaimer
At the end of this course, students should have attained the basic capacities to analyze a histologic specimen. This course does not offer a specialist/diplomate status and is not a pre-requisite for a residency program in veterinary anatomic pathology anywhere in the world. This course is intended for veterinarians only. Other disciplines will not be considered.
Contact Information
Course coordinator:
Francisco Carvallo DVM, DSc, DACVP
Email: Francisco.carvallo@gmail.com
Course sponsored by:
Virginia Maryland College of Veterinary Medicine.
Davis-Thompson Foundation
Latin Comparative Pathology Group