2023 General Pathology Review Course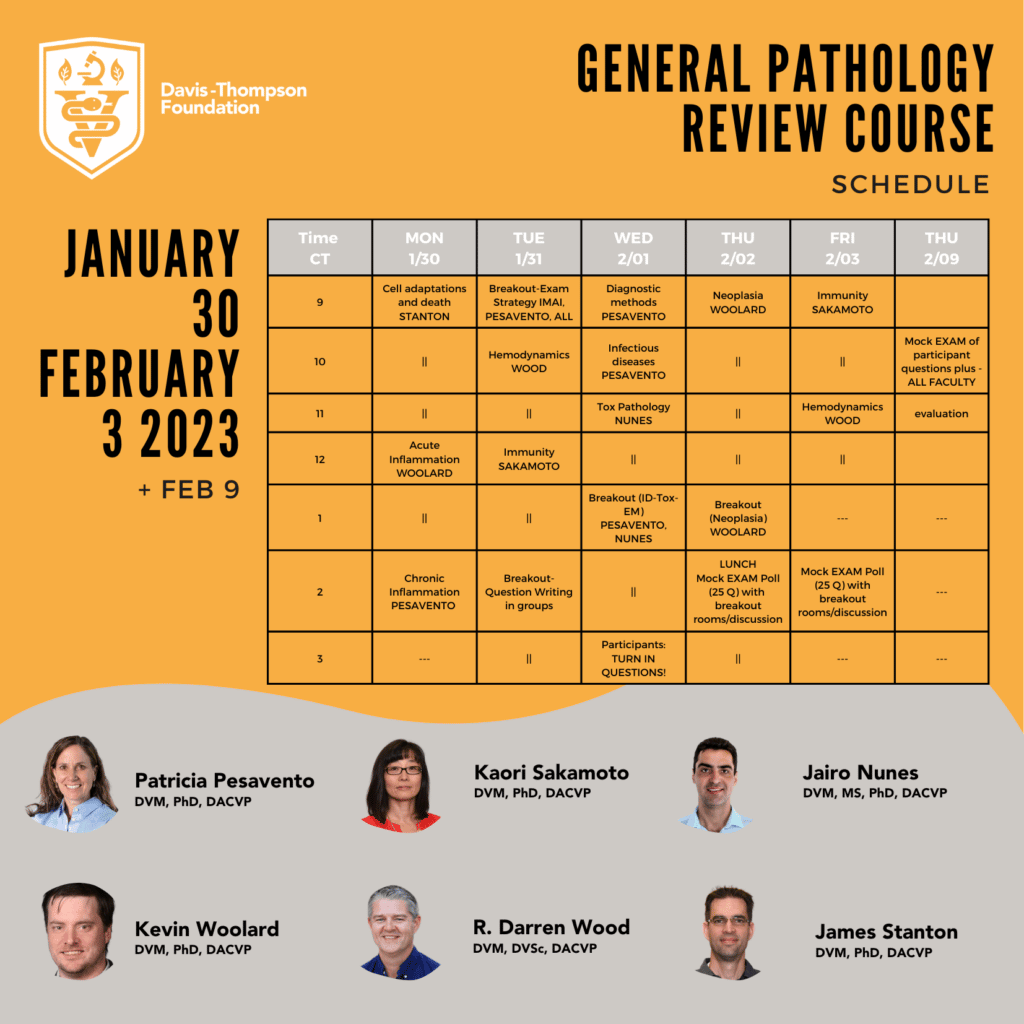 The year 2023 is just around the corner, and we can't wait to e-see y'all at the acclaimed yearly General Pathology Review Course, which will take place the week of January 30 – February 3, 2023. So go ahead and save the date on your calendars for this phenomenal opportunity. This course will grant you access to comprehensive lectures on cell adaptations, tissue repair, inflammation, hemodynamics, pathogenesis, immunity, neoplasia, and more…!
The instructors will deliver their top-notch lectures virtually in 2023, which allows participants from all over the world to join the course and master Gen Path.
Register here: https://davisthompsonfoundation.regfox.com/genpath2023
Content preview:
Cell adaptations, injury, and death (hyperplasia, hypertrophy, atrophy, patterns and types of necrosis, apoptosis, autophagy,
accumulations )
Tissue repair (proliferation, cell cycle, ECM, healing, fibrosis, growth factors)
Acute Inflammation (vascular, leukocytes, cell and plasma derived mediators of inflammation, recruitment, recognition, removal,
morphologic patterns )
Chronic Inflammation (causes, macrophages, phagocytosis, systemic effects of inflammation consequences of chronic inflammation)
Hemodynamics (homostasis, thrombosis, vascular disease )
Diagnostic tests (innate, adaptive, autoimmune, lymphocyte activation, hypersensitivity, autoimmunity, immune deficiency)
Microbial Pathogenesis (general principles of pathogenesis, mechanisms of bacterial injury, Mechanisms of viral injury, acute and chronic
diseases)
Immunity (innate, adaptive, autoimmune, lymphocyte activation, hypersensitivity, autoimmunity, immune deficiency)
Neoplasia (characteristics, molecular basis and mechanisms, multi-step carcinogenesis, metabolic alterations, malignancy, host defense)
Related Events